Toronto is a city located on Lake Ontario's northwestern coast. It is known for its numerous attractions, including the CN Tower, the Art Gallery of Ontario, and various other cultural institutions.
Toronto is the place to go for all the festivities of Christmas. From the Christmas Flower Show to the Aurora Winter Festival, this city has it all to offer.
There are many pet-friendly hotels and rentals in Toronto that cater to both your pets and the people who love them. Here are some of the things that you should check out in Toronto this Christmas:
Activities To Look Out For in Christmas in Toronto 2021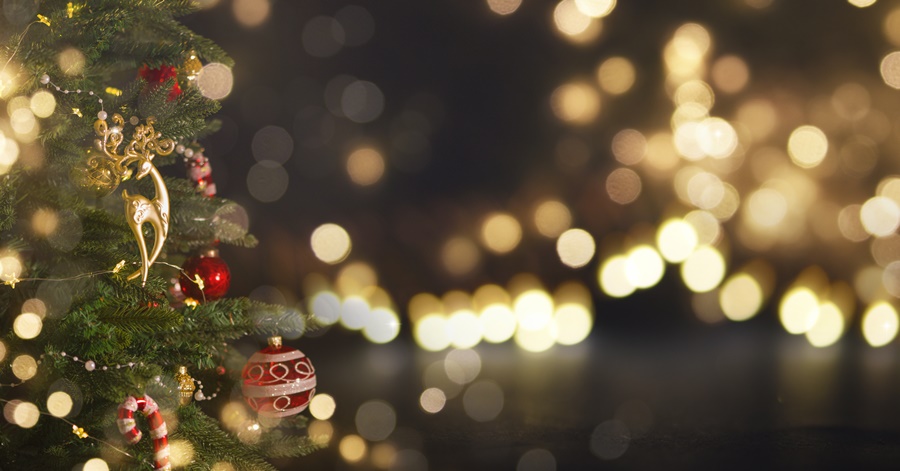 So are you ready to get around looking for where all the hype ad buzz are when you're in the Canada's capital? Let's take a look at some of the best activities you can engage in this Christmas amid the pandemic:
1. Get lost in the brilliant lights in Glow Toronto.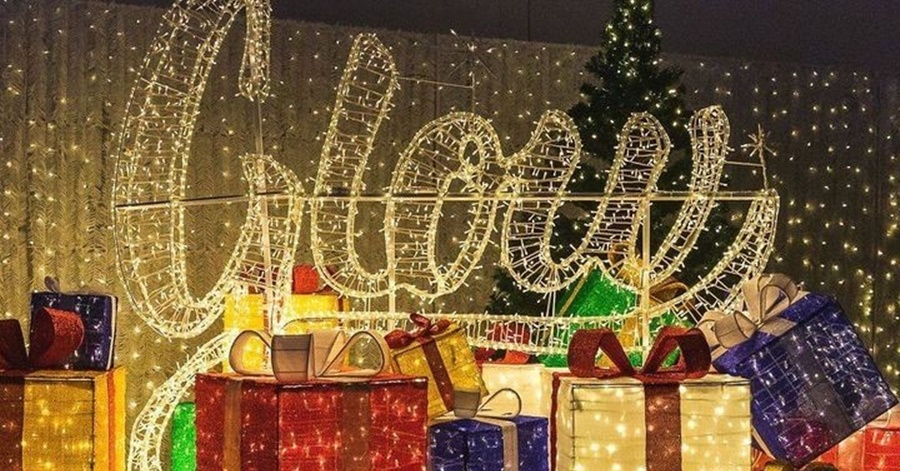 Come celebrate the season with family and friends at Glow Toronto. This event features an outdoor winter festival with over 30 light structures and interactive restaurants.
You can also shop at the artisan shops. This is a great way to spend the holiday season. It's also a great way to bring the whole family out for a day of fun.
Here's what Jesse A. thought about their last visit to this location: "Awesome! I am extremely happy us and some of our family and friends were able to check GLOW out. It was absolutely stunning! First off, if you have thought of going to Wonderlands winter light show, spare yourself the shivers! This place is indoors, warm and cozy. So many displays of creative arts, giant sized Christmas decorations and live entertainment. I'm going back once more before the season ends. Plenty of parking, there are some food and drink vendors also."
Contact Information
Timing: Hours or services may differ
Address: 1020 Martin Grove Rd, Etobicoke, ON M9W 4W1, Canada
Website: https://www.glowgardens.com/toronto-christmas/
Telephone Number: +19058764964
Google Map Location:
2. All Eyes on Window Wonderland at The Junction
This year's Window Wonderland features a variety of art galleries, including some of the best local artists. You'll be transported to a gallery filled with the works of local animators, where you can experience their creations in augmented reality.
Contact Information:
Timing: November to January
Address: The Junction, 2978 Dundas St W, Toronto, Ontario
Website: https://torontojunction.ca/window-wonderland-2021
3. Celebrate Christmas Revelry at The Distillery Winter Village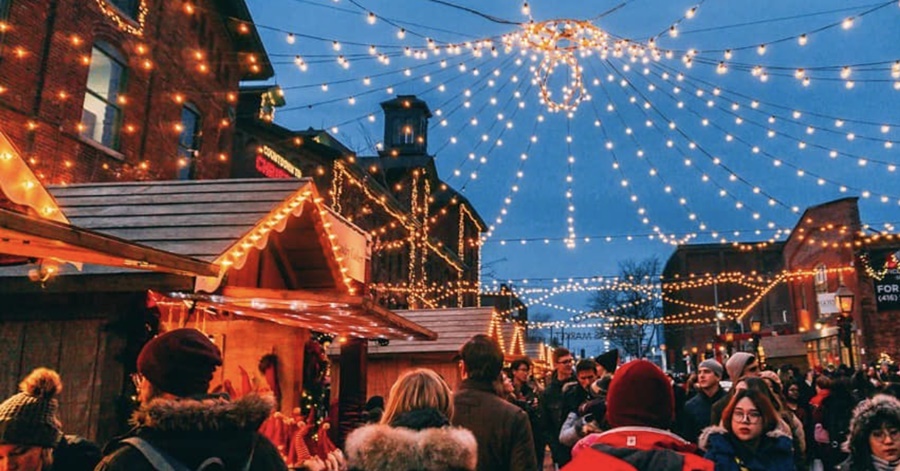 The Distillery Winter Village is a magical place to visit during the holiday season. There are so many reasons to visit this magical place. Here are some of them:
Photo Walls – Check out their Christmas decorations and take that IG-worthy festive shot!
Wave hello to Santa – Instead of just delivering gifts, Santa has also changed his approach. Instead of just walking around the city, he and his helpers will be walking the cobblestone streets to bring the holiday spirit to the area.
Buy your Christmas Tree – Trees and wreaths for sale at Forests Ontario are available for pre-purchase now through their online shop, and they will only be available until supplies last.
This year, the Salvation Army in Ontario is setting up their massive Christmas kettle on Gristmill Lane. The location will serve as their headquarters for the season.
At SickKids, there is no room for the naughty or the nice. Instead, they are all about the brave. The Brave List is a list of names of all the children who have been a part of SickKids. The list will be projected onto the main chimney of the Distillery District during the holiday season.
Through a partnership with Interac, Artscape is offering a free gift wrapping service to benefit local organizations. This year, the service will be available from December 1 to 23.
Here's what thought about their last visit to this location: "
Contact Information
Timing: Open daily 9 AM to 9 PM (up to 10 PM on Friday and Sturday)
Address: 55 Mill St, Toronto, ON M5A 3C4, Canada
Website: https://www.thedistillerywintervillage.com/
Email: inquiries@thedistillerydistrict.com
Telephone Number: +14163641177
Google Map Location:
4. Enjoy a Merry 'Ole Christmas at Riverdale Farm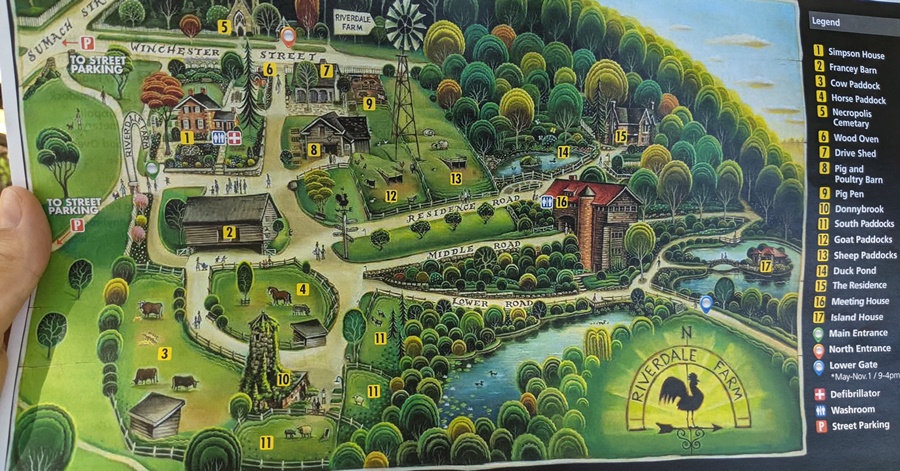 Located in the heart of Cabbagetown, Riverdale Farm is a working farm that features a variety of animals, including pigs, chickens, and goats.
This community garden features various flower, vegetable, and herb gardens. It is surrounded by wooded areas and ponds that are connected to the city's ravine system.
This farm is full of fun activities for children. It's also known for its Christmas festivities. You can make bird feeders, decorate gingerbread cookies, and enjoy savory meals.
People visit this attraction because of winter sledding and skating park, which includes a swimming pool, baseball diamonds, and a playground.
Here's what Tram Ngo thought about their visit in the establishment: "What's not to like about a farm that is in the middle of the city. We took our toddler here for a stroll and he loved seeing all the animals. There is a path that leads you all around the farm some areas are paved and some have gravel. You can definitely bring your stroller here. We did! Also the farm is right beside Riverdale West Park. Beautiful park with a snack shop located outside the park. Splash pad for the kids."
Contact Information
Timing: Open daily from 9 AM to 5 PM
Address: 201 Winchester St, Toronto, ON M4X 1B8, Canada
Website: http://riverdalefarmtoronto.ca/
Email: farm@toronto.ca
Telephone Number: 416 392–6794
Google Map Location:
5. Hang Out with the Animals at The Toronto Zoo's Holiday Animal Enrichment Days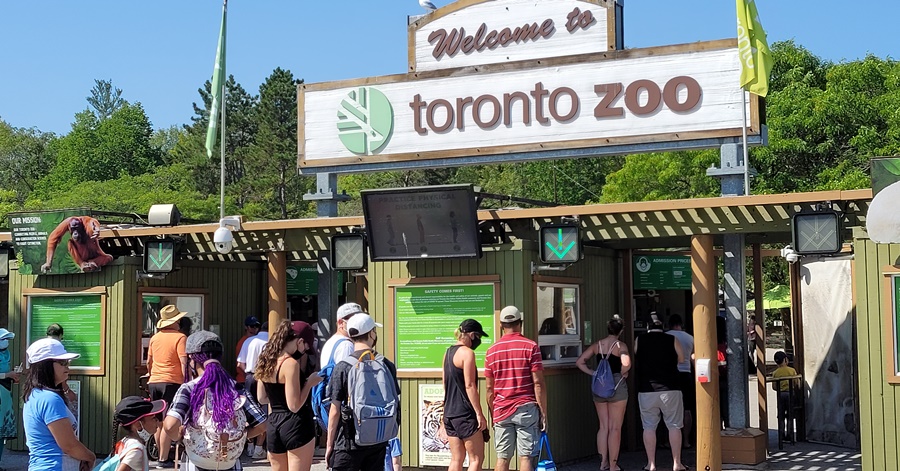 During the Holiday Animal Enrichment Days, visit the Toronto Zoo to experience the various programs and activities that are designed to enhance the well-being of the animals. These include the use of special food items, a variety of puzzle feeders, and relaxing scents.
This sanctuary features various animals that are part of the experiences that are made here. They are provided with various food and beverage products, which are made to nourish and uplift their bodies.
People visit this city attraction to find a sprawling zoo with outdoor pavilions hosting hundreds of species, as well as a huge botanical collection.
Here's what Ada Kirkwood thought about their visit in the establishment: "Super fun! They have such a variety of animals with big cages! Great family's, friends,field trips and more! They have food in a lot of places, pretty pricey but still good. They teach you a lot here and keep you happy! Great experience and just so fun! Great for all ages! Loved the polar bear."
Contact Information
Timing: Open daily from 9:30 AM to 4:40 PM
Address: 2000 Meadowvale Rd, Toronto, ON M1B 5K7, Canada
Website: https://www.torontozoo.com/
Email: tzwebmaster@torontozoo.ca
Telephone Number: +14163925900
Google Map Location:
6. Explore a Christmas Wonderland at Black Creek Pioneer Village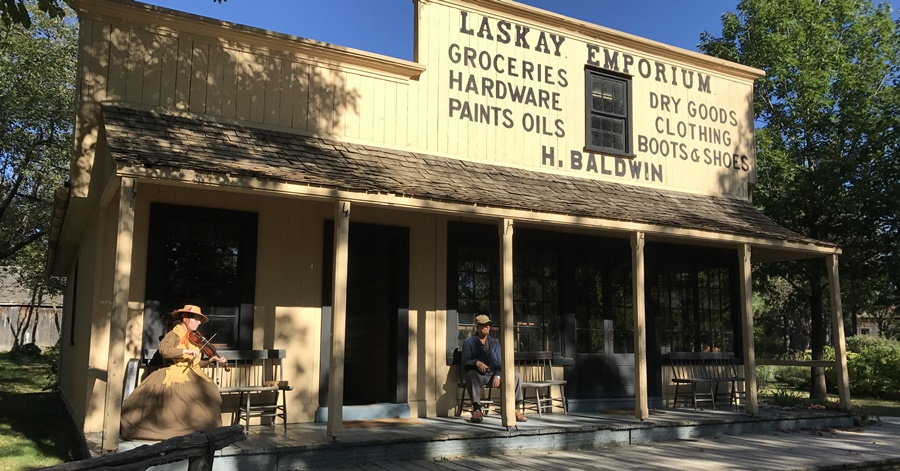 Visit Black Creek Pioneer Village to enjoy the Christmas season with your family. It has a variety of activities that are sure to make the festivities memorable.
Have a great time creating Christmas crafts and decorating cookies. Go on a tour through the village and meet Santa.
Here's what Emily Michelle Fata thought about their visit in the establishment: "I've gone to Black Creek Pioneer Village multiple times since I was a kid and I always have such a great time! Most recently, I attended last night's Haunted Walk tour. Our guide, Sarah, was super knowledgeable and amazing storyteller. She had so many eerie anecdotes to share with us on our tour. It was easy to enjoy ourselves while remaining socially distant from the other 4 people that joined us. There was the perfect balance of spooky stories, as well as being able to explore the experience the houses in a brief walk-through. We even spotted two spirits while on the tour — on the stairwell of the Half-Way House, and someone walking along the path near the church cemetery. I'll definitely be coming back for another one of these tours and recommending it to my friends."
Contact Information
Timing: Temporarily opens only on Thursday, Saturday, and Sunday; 11 AM to 3 PM.
Address: 1000 Murray Ross Pkwy, North York, ON M3J 2P3, Canada
Website: https://blackcreek.ca/
Email: bcpvinfo@trca.on.ca
Telephone Number: (416) 736-1733
Google Map Location:
7. Admire the Christmas Flower Show at Allan Gardens Conservatory
Take a trip to the Allan Gardens Conservatory for the Christmas Flower Show. This festive event features over 30 different varieties of flowering plants and over 30 stunning topiary creations.
This spectacular garden features numerous multi-colored flowers and plants that are both stunning and verdant. On the opening day, join in the festivities with family-friendly events.
Here's what Peter Ibrahim thought about their visit in the establishment: "An absolutely beautiful hidden gem right in the middle of the city! I have no idea how I haven't been until now! There are several different rooms with a variety of different plant species, even a few rooms with Koi fish and another habitat with Turtles! Added to the beautiful array of nature, (and it is oh so beautiful) is the architecture that you also get to marvel in, don't forget to look up while in the dome room! The cherry ontop is that this whole experience is absolutely free! You have no excuse not to visit!"
Contact Information
Timing: Open daily 10 AM to 4 PM
Address: 19 Horticultural Ave. Toronto, ON, Canada M5A 2P2
Website: https://www.facebook.com/AllanGardensTO/
Email: pfroutreach@toronto.ca
Telephone Number: +1 416-392-7288
Google Map Location:
8. Hop In The Happening At The Kensington Market Winter Solstice Parade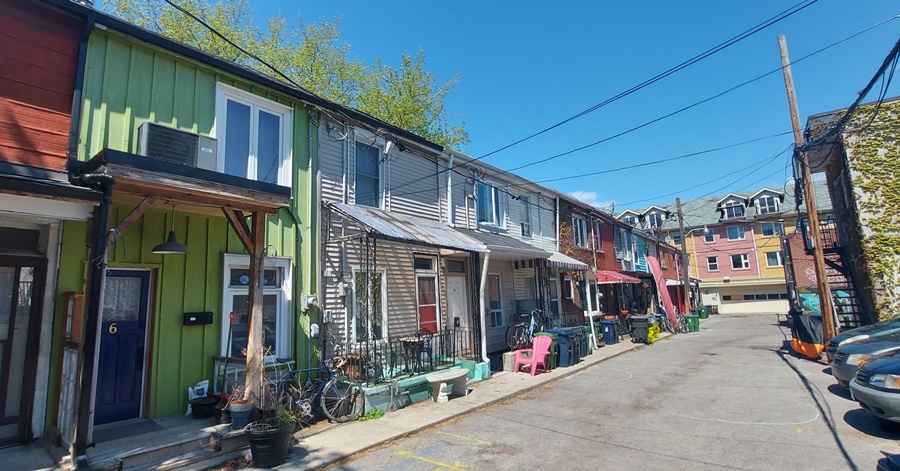 Kensington Market is a great place to shop for local goods and services. This year's parade features a variety of hand-made lanterns, masks, and other unusual props and features. The Christmas lights in Toronto are truly spectacular. Take in the sights and make it a special occasion with your family.
The Winter Solstice Festival at the Kensington Market was initiated in 1988.
Inspirations for the festival were influenced by various theatrical productions in the area.
Ida worked with various artists in various forms of media, including but not limited to storytelling, mythology, and dance.
She was a part of the vanguard of street performance protesting, which was growing from the arts organization. She helped create the conventions of circus and clowning, and she helped create the power of masking performance.
The winter solstice is a time when the sun sets on the northern hemisphere. It is also deeply culturally significant to us.
She had also imagined the cold and dark seasons ahead. She was also fascinated by the idea of the return to light.
Contact Information
Timing: Takes place in December
Address: Kensington Market, Toronto, Ontario, Canada
Website: https://www.redpepperspectacle.com/kensington-market-winter-solstice.html
Email: redpepperspectaclearts@gmail.com
Telephone Number: 647-929-0958
Google Map Location:
9. Be Dazzled at the Cavalcade Of Lights at Nathan Phillips Square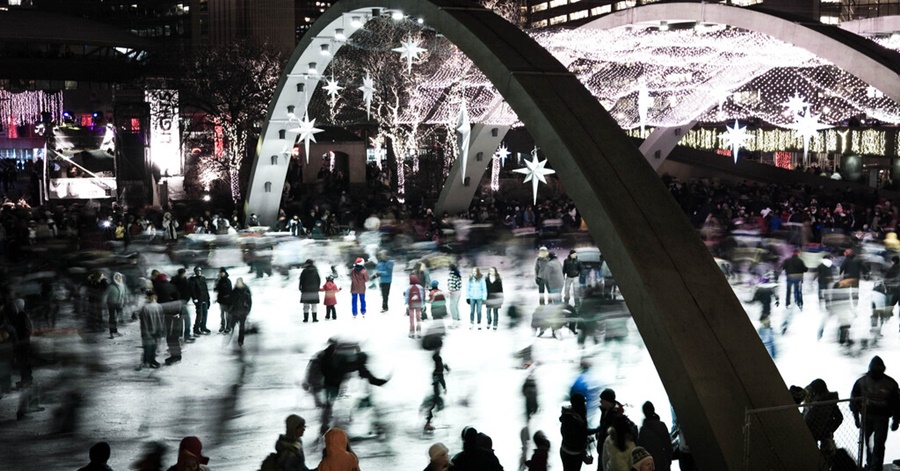 The annual holiday event, which takes place in Toronto, Canada, begins with the lighting of Nathan Philips Square's official Christmas tree.
This Christmas attraction features a DJ skating party and various other attractions. While watching the fireworks displays, enjoy live music performances.
This holiday season, Nathan Phillips Square will transform into a spectacular Christmas display complete with over 100,000 lights. The event will take place nightly from November 27 to January 2.
The City's tree and skating events are back this year, with new additions. From enchanted tunnels to ice sculptures, discover the magic of light in these new installations.
Contact Information
Timing: Daily from 5 PM to 11 PM
Address: 100 Queen St W, Toronto, ON M5H 2N2, Canada
Website: https://www.toronto.ca/explore-enjoy/festivals-events/cavalcade-of-lights/
Email: spevprog@toronto.ca
Telephone Number: 647-929-0958
Google Map Location:
10. Bask in the Festive Christmas Spirit In Casa Loma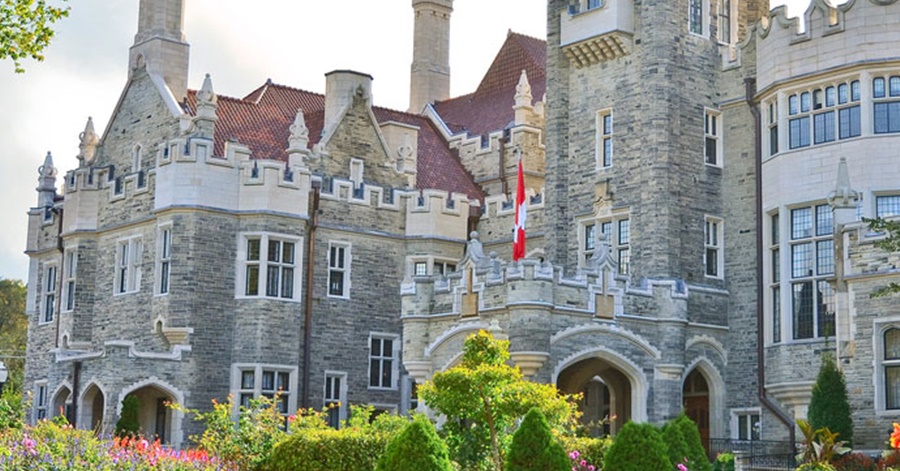 During this magical occasion, indulge in various activities and shows that will make your Christmas truly memorable.
Casa Loma was originally constructed in 1914 by Sir Henry Pellatt, a financier who made Toronto his home. The elegant structure is currently owned by the City of Toronto.
Casa Loma is Toronto's most visited tourist attraction. It attracts over 650,000 visitors each year and is also used as a backdrop for hundreds of private events.
The Liberty Entertainment Group is a Toronto-based company that specializes in the restoration of historic buildings.
Located in Casa Loma's Great Hall, this holiday season's Christmas at the Castle features a spectacular 40ft tree and a collection of holiday trees designed by Canadian designers. There are also various attractions for the younger guests.
Make the most of the opportunity to decorate the dishes served at the Big Guy's Workshop.
Here's what Van Ngo thought about their last visit to this establishment: "It's well worth the price with lots of amenities. Historical building maintained well. A large portion of the main floor is now used as restaurants which is definitely a fancy experience. The kids will like the escape room and Christmas activities. Love the underground tunnel."
Contact Information
Timing: Open daily 9:30 AM to 5 PM
Address: 1 Austin Terrace, Toronto, ON M5R 1X8, Canada
Website: http://www.casaloma.ca/
Email: help@ticketweb.ca
Telephone Number: (416) 923-1171
Google Map Location:
11. Hail The Toronto Santa Claus Parade at St. Lawrence Market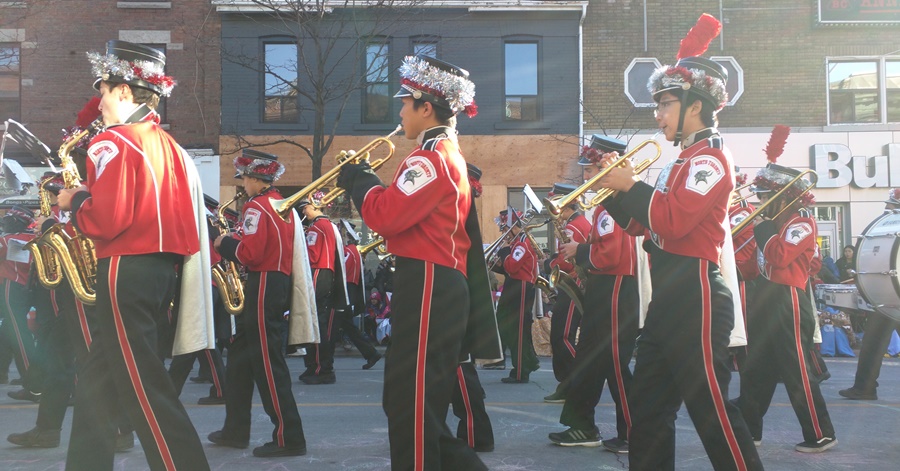 The Santa Claus Parade is one of the most spectacular events in the whole of Saint Lawrence. It is held every year on December 23.
Contrary to popular belief, the Santa Claus Parade is not a profit-making organization. It has been carrying out its original purpose for over a century, and it relies on the help of thousands of individuals and sponsors.
Watch the parade and enjoy the festivities as it proceeds. Also, tune in to watch the Holly Jolly Fun Run before the parade begins.
Here's what Nisha Chandy thought about their last visit to this establishment: "It was my first visit to the parade. I enjoyed a lot with my kids. A big suggestion for everyone, reach the place 1-2 hours before the parade starts and find some place to sit near the starting point of the parade and take pictures with all the tableau properly."
Another pleased guest, Mya, shared this about their experience: "It was great but they started late they were supposed to start at 12:30 instead of 1:05 but it was great so entertaining and fun my favourite was the drumline of St Michels they were awesome I also liked the marching band the cheerleaders and many more thank u Toronto so much for doing this."
Contact Information
Timing: Open on weekdays only from 7 AM to 3 PM
Address: 139 Wendell Ave, North York, ON M9N 3K9, Canada
Website: http://www.thesantaclausparade.com/
Email: info@thesantaclausparade.com
Telephone Number: +14162497833
Google Map Location:
Final Thoughts
Christmas is just right around the corner. And in Canada, it's going to be a spectacular season. With this guide, we hope that you can find the most exciting activities you can participate in when you're in the Toronto area. By knowing what your options are, you can better prepare for what you can plan to go to by yourself, with friends, or with the whole family. As a friendly reminder, make sure that you share this guide with everyone whom you think can greatly benefit from this.
READ NEXT:  5 Exciting Adventures in Canada's Wonderland