If you have been living in the Philippines for more than six months and intend to apply for immigration in Canada, then you will need to submit an NBI clearance certificate.
You may have been following the Toronto Raptors' success in the 2019 NBA Finals and wanted to visit or live in Canada. Whatever your reason for wanting to visit the maple-leaf country, be it as a tourist, a student, a skilled worker, or a family member, you will most likely be asked to obtain a police certificate or an NBI clearance. In this guide, we will outline the major things you need to know about this process. Keep on reading to learn more.
Guide to Applying for NBI Clearance in Canada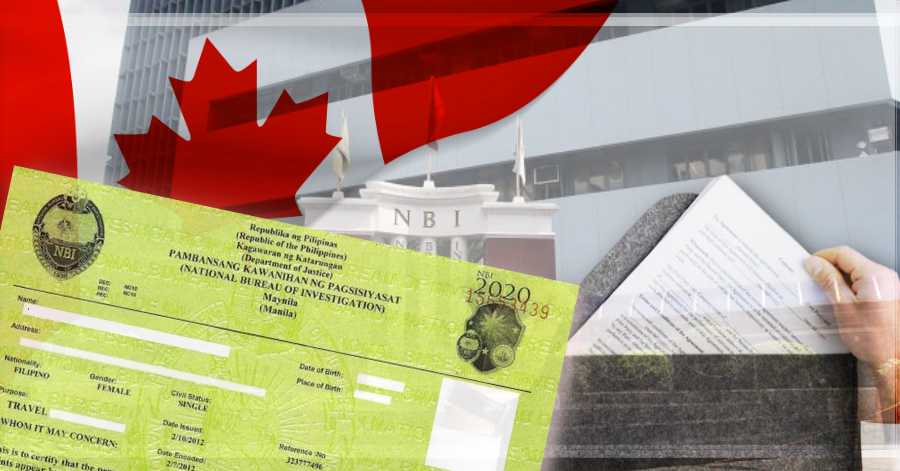 If you are planning on staying and becoming a permanent resident of Canada, then you and your family will need to get an NBI clearance. To get started, make sure to read the following sections and be sure to bookmark this guide and use it as a reference for this very purpose.
What is an NBI Clearance?
The National Bureau of Investigation's clearance certificate is a proof of identity that shows if you have committed a crime. It serves as a way for the agency to verify your credibility and good conduct while or during your stay in the Philippines.
Did you know that an NBI Clearance has a myriad of uses? The NBI clearance is a form that can be used to prove one's identity. It can also be used to replace legal documents such as a National Identification Card.
The NBI has granted various functions related to the multi-purpose card. This card can be used to pay for various transactions in the Philippines. Here are some of them:
NBI specialists save the details of an applicant's profile in their databases, such as his or her photograph, address, and personal details. These details are used by law enforcers for administration purposes.
Residents of the Philippines who are married to Filipinos and foreign nationals who are residing in the country need to get their NBI clearance form in order to establish their presence in the country.
As part of the NBI clearance process, you may be asked to confirm that you have no pending case in court.
Making Changes to other legal documents
The Office of the Civil Registrar has issued a directive that allows people to correct clerical errors in their documents. For instance, if you have a misspelled first name, you can easily correct it by presenting the certificate of birth.
In line with this, NBI clearance is a document that can be used to correct errors in a birth, marriage, or death certificate.
NBI clearance is a requirement for many job seekers and employers in the Philippines. It shows that one has good moral character and identity.
The NBI clearance is usually granted to individuals who have no pending court cases. This ensures that employers are more confident about their prospective employees.
Aside from your passport and visa, NBI clearance is also a requirement for traveling outside the Philippines. This document is usually carried out when planning to visit a foreign country or for medical purposes.
Requirements
Applying for an NBI clearance in Canada is just plain simple. All you need to do is provide all the details that you need to complete the application.
a 2" x 2" photograph in white background, taken within three months before the application
An accomplished NBI Clearance Form No. 5
photocopies of your Philippine Passport
You may also need to provide additional Valid IDs for NBI Clearance (optional).
Fees
You will need to pay an NBI clearance fee of C$36.25. Please bring your bank draft or postal money order to pay for your clearance.
Procedure
If you're from the Philippines and live in another country, such as Canada, then you can get a police certificate and NBI clearance there. You can apply in person at any Philippine Embassy or Consulate or mail it to the head office of the NBI. You can also request written authorization from a relative or a representative in the Philippines.
Before you get started with your application, there are certain things that you need to confirm:
If you need to apply for NBI clearance, you may need to book an appointment with your respective foreign post. This is important so you wouldn't go home empty-handed.
If the consulate office is not processing the NBI clearance application.
Once you have confirmed these things, you will need to do the following:
The first thing you need to do is to obtain the NBI clearance form No. 5, which must be filled out by hand. This form requires the holder to provide their personal information on both sides of the form.
For a married woman, the order of writing the name is usually done in this manner:
Maiden Last Name (Father's surname)
Husband's Last Name
First name or Given name
Maternal Last Name (Maiden's Last Name of the mother or Middle name)
After completing the NBI's clearance form, you can now have your fingerprint impression taken at the nearest police station or relevant agency.
If the procedure is handled by a police officer, make sure that the details of the person who provided the fingerprint impression are completely included on the form.
Attach the latest 2×2 photo that you have taken while preparing the NBI clearance application.
You can now proceed with the process and submit the necessary documents for your clearance.
Consularization: Before the procedure is carried out, you need to pay the fees for the Consularization. You can also send the money orders to the Philippine embassy or consulate-general.
Submit the completed NBI clearance form. This form should be sent to the address provided by the NBI.
At least three (3) copies of your passport and your work permit should be brought along with the clearance form.
Note: You can also get your documents back within three to five working days after they were sent.
The last step of the NBI clearance process is the online submission of the form. There are two options to choose from: One is to submit the form in person, and the other is to send it to an email address.
You need to secure another draft or Money Order worth P200payable to the Philippine Consulate or Embassy if you will have the action officer do it for you. Payment should be addressed to:
The Director
National Bureau of Investigation
Taft Avenue, Ermita 1000 Manila,
Philippines
Meanwhile, the NBI Clearance form No. 5 must be filled out then addressed to:
Ms. Julie Macalit
IRD – Mailed Clearance Section
National Bureau of Investigation
Taft Ave., Ermita 1000 Manila, Philippines
Here is the list of accredited banks where you can direct your payment to:
                Philippine National Bank (PNB)
365 West Broadway, Vancouver BC V5Y 1P8
(applicants will be issued a money remittance receipt to be sent with the NBI application documents to NBI, Manila)
Hong Kong and Shanghai Bank Co. (HSBC)
ANZ – A New Zealand Bank
Metrobank
Bank of the Philippine Islands (BPI)
After submitting the NBI application, it will be sent to the Philippines. Your clearance will take about 3 to 5 working days.
Before you send the NBI clearance application form, make sure to send it to the authorized representative of the Philippines. He/she should bring the appropriate documents with him/her. Your authorized representative needs to present your application form at the main office of the National Bureau of Investigation in Manila.
Video: NBI Clearance Application in Canada
Here is a short video created by a Filipino based in Canada, who also applied for an NBI Clearance in order to process her permanent residency (PR) application in Canada. This video tutorial will walk you through all the steps that you have to go through in order to successfully file an application at the Philippine consulate/embassy and then at the NBI main office in the Philippines. The good news is, there are only a few steps that you need to do. However, you need to plan your timeline for this so that you wouldn't experience any hassle or delay for the issuance of your NBI Clearance. Remember, the document will be issued from the Philippines, so good time management will be crucial here if you wish to expect everything done according to schedule.
The first part deals with scheduling an appointment at the Philippine consulate or embassy in Canada. The next part will be sending your documents to the Philippines so that your representatives such as your family or friends can help you file your application at the NBI main office in Taft, Manila.
This video guide is very short yet comprehensive in such a way that you would know what to expect and even learn some tips on how you can easily process your documents and submit an application from Canada and then in the Philippines. We hope this video can help you better understand how the process works for Filipinos applying for NBI clearance in Canada in conjunction with all the information presented in this guide in the earlier sections. With that, make sure to share this post with your family or friends and basically anyone who needs to file an NBI clearance application from Canada so that they won't have a hard time getting their document processed.
Frequently Asked Questions
How can I avail an NBI clearance from abroad?
NBI Blue Form 5 is available at any Philippine consulate or embassy. Just contact the nearest police station or an approved fingerprinting agency to get your fingerprints authenticated.
NBI Blue Form 5 can be submitted online or by phone at any NBI office in the Philippines. You can also get in touch with your family or friend to get in touch with an NBI representative for the application of this document.
Who needs to apply for a National Bureau of Investigations (NBI) Clearance certificate?
For Canada's immigration agency, the IRCC, every applicant must provide a police clearance from the country of origin when they turn 18 years old. This means that if you're a Filipino, you're already in Canada.
If you are a foreign national who has lived or stayed in the Philippines, you need to apply for a National Bureau of Investigation (NBI) clearance certificate.
If I have an old NBI Clearance, Can I renew Online?
Old NBI clearance documents can be renewed online (https://www.nbi.gov.ph/) at any NBI branch or by contacting the Philippine foreign post's civil registry division.
What do I need if my marital/civil Status Changed?
If your Marital/Civil status has changed, you have to update your information through a fingerprint application.
How long does it take to process my NBI clearance?
Depending on the type of application, the processing time typically takes around 2 weeks. For renewal, it takes another 3 weeks. For fingerprint applications, it typically takes up to 4 weeks.
What is a "HIT"?
A "HIT" is a term used by the National Bureau of Investigation in the Philippines to refer to individuals whose names appear in the agency's database.
What is a "NAMESAKE"
A namesake is a person's name that has the same connotation as another.
What should I do if I have a "HIT"?
You must provide an affidavit of denial if the term "HIT" is just a name. If the "HIT" is related to a crime, the NBI usually asks for an Affidavit of Admission or a court clearance or court disposition.
What is NBI Quality Report?
This form is usually used by the NBI to inform gamblers about the reason why they were denied their clearance.
Where can I get the "Affidavit of Denial" or the "Affidavit of Admission"?
You can get the fillable Affidavit form of the Philippine Consulate online and get it authenticated and notarized.
What should I do, if required to avail a court clearance or case disposition?
If you have a copy of the court certification or the court disposition of the case, submit it along with your NBI application. Doing so will help avoid delays.
I am not a Filipino Citizen and I have stayed in the Philippines for quite some time, do I really need to provide an NBI Clearance for Immigration?
You should comply with all the immigration requirements when applying for Canadian citizenship or if you've been staying in the Philippines for more than six months.
What's the difference between "No derogatory record" and "No record on file" in your NBI clearance certificate?
No record on file is indicated when the individual has not obtained a certificate and the person with a derogatory record has had previous incidences with the law.
Summary
The NBI Clearance can serve several purposes. These include proof of identity, as a supporting document to make changes on your legal documents, securing jobs, and for travel overseas. That being said, there are plenty of things you can do with this document. The good news is that applying for one is simple and straightforward. The challenge  will only be planning the timeline for your application – this is especially true if you need to use this document for another ongoing application, such as your PR application (hopefully, soon!)
With this guide on hand, you should be able to file an application at your nearest foreign service post. As a final remark, since the process of applying is relatively straightforward, your main responsibility here will be to gather and submit all the required documents on time. Other than that, filing an application should be a breeze.
READ NEXT: Services by the Philippine Consulate in Canada and Overseas Labor Office
Contact Information
Philippine Embassy in Ottawa, Canada
Address: 30 Murray Street, Ottawa ON K1N 5M4
Tel. Nos. :  +1 613-2331121
Fax No. :  +1 613-2334165
Email : embassyofphilippines@rogers.com
Timings: 9:00 AM to 5:00 PM, Mondays to Fridays, except Philippine and Canadian holidays.
Google Map Location
Philippine Consulate General in Vancouver Canada
Address: 999 Canada Place, Suite 660 Vancouver, BC V6C 3E1
Phone: 604-685-1619
Fax Number: 604-685-9945
Email: vancouverpcg@telus.net
Timings: 9 AM – 5 PM (Monday to Friday except on Philippine and Canadian holidays)
Google Map Location
Philippine Consulate General in Toronto, Canada
Telephone   (416) 922.7181
Facsimile    (416) 922.2638
Email: consularmatters@philcongen-toronto.com
Timings: 10:00 am to 4:00 pm (except for Philippine and Canadian Holiday)
Google Map Location
Philippine Consulate General in Calgary, Canada
Address: Suite 920, 517 10th Ave. SW Calgary, AB T2R 0A8
Tels.: (403)4559343; 4559346; 4559457; 4559483; (587)577-1524
Email: calgarypcg@dfa.gov.ph/
Timings:  9:00am – 10:00am · 10:00am – 3:00pm; (except for Philippine and Canadian Holiday)
Google Map Location