Canada has been home for many OFWs and migrants. Filipinos have been in this country for decades and Filipino workers population continuously increasing from time to time. If you are in Canada and wish to process any Philippine government related documents, you can go directly to the Consulate to help you out.
Below are the services offered by the Philippine Consulate Vancouver.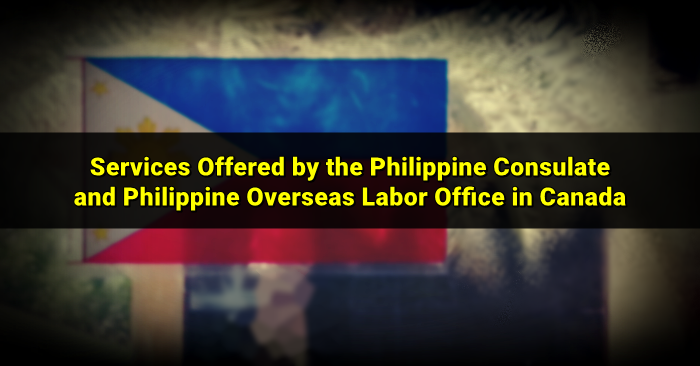 Vancouver Philippine Embassy
Passport – Application for New Passport / Renewal / Amendment / Replacement
Civil Registry – Report of Birth , Report of Marriage or Report of Death
Visa Application – Non-Immigrant Visa / Temporary Business Visitor's Visa / Temporary Visitor's Visa / Student Visa / immigration Visa / Special Investor's Resident Visa (SIRV) / Special Resident Retiree's Visa (SRRV)?
Notarials & Authentication – Import Permit for Pets / Health Certification for Pet / Shipment of Human Remains / Certification / Authentication of PRC License
Dual Citizenship
Issuance of NBI Clearance
Registration of Overseas Absentee Voter
The Philippine Consulate General – Vancouver
Website: http://www.vancouverpcg.org/home2.html
Address: World Trade Center Office Complex 999 Canada Place, Suite 660 Vancouver, B.C. V6C 3E1 – Location Map
Phone: (604) 685-1619 or (604) 685-7645 Fax: (604) 685-9945
Email: vancouverpcg@telus.net
Office Hours: 9:00 am to 4:30 pm (Monday to Friday) & 9:00 am to 6:00 pm (every last Friday of each month)​ Exc Holidays
Philippine Overseas Labor Office (POLO) – Canada
POLO is ready to assist you with any labor-related issue or inquiries. You may refer to below services that their office offers.
Services Offered:
Verification of Employment Contract
OWWA membership / Renewal Requirements
Issuance of OEC
OFW Information Sheet
Philippine Overseas Labor Office (POLO)
World Trade Centre Office Complex
999 Canada Place, Suite 611, Vancouver, BC, CANADA V6C 3E1
Tel. No.: (604) 641-1234
E-mail: polo.vancouver@yahoo.ca; polo_vancouver@dole.gov.ph
For emergency, call the POLO hotline (604) 767-3352