Filipinos who decide to leave their homeland for "greener pastures", Canada included, bring with them their hopes and dreams of enjoying a more satisfying and comfortable life. This is completely understandable, given the fact that the Philippines is a third-world country, and Canada is among the top 10 nations with the largest economies. With this status, residents including immigrants can expect to enjoy several hard-to-pass benefits, which is why Filipinos aspire to become PRs (permanent residents) of this country.
However, the journey to becoming a PR in Canada is not without any hitches or tough decisions to make, one of which is whether to retain one's citizenship. But this doesn't have to be the case always because there are ways for you to enjoy both. And as you might have guessed, this is where applying for dual citizenship comes in. Keep reading until the end of this guide to learn more.
Guide on Applying for Dual Citizenship in Canada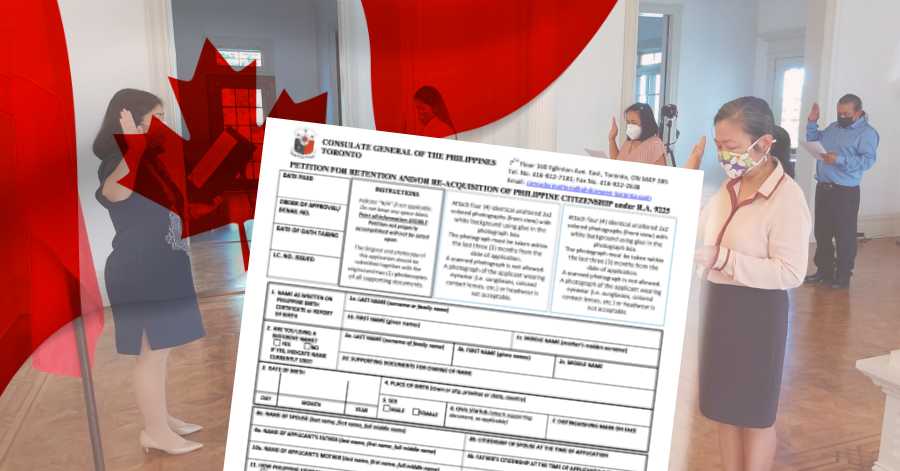 If you're wondering what the process of applying for dual citizenship in Canada is like, then you've come to the right place! In this guide, we will share everything you need to know about the process. We'll even share with you some tips to make this process not only worthwhile but also successful! If this piques your interest, then don't stop at anything 'til you read every section of this guide. You'll be glad you did – we promise!
What is Dual Citizenship?
Under Republic Act 9225 (or the Citizenship Retention and Reacquisition Act of 2003), natural-born Filipinos who lost their Filipino citizenship can regain it by applying for a reacquirement visa. This means that natural-born Filipinos who became naturalized citizens of another country may apply for the re-acquisition of their Philippine citizenship. They can do this by filing a petition for the retention or reacquisition of their Philippine citizenship on their own behalf or that of their unmarried children under 18 years old.
Individuals who reacquire their citizenship under Republic Act 9225 may now enjoy various rights and freedoms, such as those granted by the country's existing laws, including the following:
The right to own land and property in the Philippines;
The right to engage in business or commerce as a Filipino;
The right to travel with a Philippine passport;
The right to vote in the Philippine elections while abroad (by registering beforehand in the Overseas Absentee Voting);
The right to practice one's profession provided that a license or permit to engage in such practice is obtained from the Professional Regulation Commission (PRC), or the Supreme Court in the case of lawyers.
As a result of the comprehensive tax reform program of 1997, the income of Filipinos who were abroad in 1998 are no longer taxable.
Hence, all Filipinos who are abroad, which include those who have reacquired their Philippine citizenship, are exempt from paying Philippine income tax since 1997.
Requirements
The requirements for applying for dual citizenship are quite lengthy, so you need to make sure you fall in the categories specified before you start compiling your documents.
For both applications by mail and in person, the following documents are required:
An application form that has been filled out and signed.
For married female applicants: Original Marriage Certificate, with three photocopies;
If applicable, Original Death Certificate of a spouse, plus three photocopies;
If available, the most recent Philippine passport, as well as three photocopies of its data page (the page with the photo and personal information);
Original Divorce Decree or Court Order on Marriage Annulment, with three photocopies, if appropriate.
Original National Statistics Office (NSO)/Philippine Statistics Authority (PSA) Philippine Birth Certificate, with three photocopies. (Those who do not have a PSA/NSO birth certificate can obtain one by applying online at https://www.psaserbilis.com.ph/. If the PSA does not have a copy of the applicant's birth certificate and provides a Certification indicating such, the applicant must produce the original birth certificate issued by the local civil registrar of the Philippine municipality where they were born, as well as three photocopies.)
Passport from Canada, including three photocopies;
Three photocopies of the original Certificate of Canadian Citizenship;
Three recent identification photographs (colored on a white backdrop, 2″ x 2″). Do not attach these photos to the application form.
For unmarried children under 18 years old, parents may apply on their behalf by filling out the appropriate portion of the application form together with the following documents prepared by child:
Duly completed and signed Dual Citizenship Supplement for Dependent
Foreign passport of the child, as well as three (3) photocopies of the data page;
The child's original birth certificate, as well as three (3) photocopies;
Three (3) photocopies of the Filipino parent's Certificate of Oath-Taking as a Canadian Citizen;
three (3) photocopies of the principal's Canadian passport;
Two (2) recent identification photographs of the dependent (colored, with a white background, 2″ x 2″);
Fees
You will need to settle CAD 72.50 payable in cash or bank draft/postal money order to the PHILIPPINE EMBASSY. For a child less than one (1) year old, a fee of CAD 36.25.
Procedure
All forms must be submitted. After the evaluation of these documents, oath-taking will be scheduled. Applicants may submit their applications along with their documentary requirements by mail to the following:
Embassy of the Philippines
Consular Section – Dual Citizenship Desk
30 Murray St,
Ottawa ON   K1N 5M4
Canada
For those who send their applications by mail, they should include the completed form, the necessary documents, and their contact details.
After they've submitted their application, a representative of the embassy will contact them to arrange for their oath-taking. After they've taken the oath, their dual citizenship papers will be issued for signature on the same day of the oath-taking.
On the other hand, applicants who submit their forms in person will be asked to return on another day for their oath-taking.
Video: Dual Citizenship- Filipino Canadian (Requirements and Tips)
In this video, we have a Filipino mom based in Canada, who shares her experience about applying for dual citizenship for her daughter who was born overseas. She shares here all the requirements that she had to submit and prepare by herself, as well as the process that she had to undergo to complete their application as smoothly as possible. So as always, with these things, the most important thing is to provide all of the requirements without fail. That way, the processing of your application will go so much smoother than if you hadn't gathered all of the requirements prescribed by the Philippine Embassy or the Philippine Consulate General in your area. Another thing is that as this experience has been her first time, she also shared some tips on how you can file an application without fail.
But our hope is that after you watch this video, you will have more information or at least a general idea of what you would go through when you start your application for dual citizenship in Canada. So keep in mind all the things that you've learned from this video guide, as well as all of the information presented in the earlier sections of this post. This way, you would have no trouble applying for this document at the Philippine Embassy or the consular office in Canada. And with that, make sure that you also share this post with your friends or family who might be interested in applying for dual citizenship while they're here in Canada. This way, they would also know what to expect, what to do, and most importantly, what they can get out of this simple process offered by the Philippine Embassy or the Philippine Consulate General here in Canada.
FAQs
Who are classified as Philippine citizens?
The Philippines' 1987 Constitution provides that citizens of the country are defined as those under Article IV, Section 1, who are:
Those born before January 17, 1973, of Filipino mothers, who elect Philippine citizenship upon reaching the age of majority; and
Those who are citizens of the Philippines at the time of the adoption of this Constitution;
Those who are naturalized in accordance of law
Those whose fathers or mothers are citizens of the Philippines;
What are the modes of acquiring Philippine citizenship?
There are two (2) recognized forms of obtaining Philippine citizenship:
Filipino by birth:
Jus soli (right of soil) is a legal principle that states that a person's nationality is determined by the place of birth.
Jus sanguinis or the right of blood is a legal principle that states that an individual acquires his or her natural parent's nationality at birth.
Filipino by naturalization is the process of adopting a foreigner and becoming a naturalized citizen of the Philippines.
I am a natural-born Filipino who was naturalized in another country; can I re-acquire my Filipino citizenship without losing current my citizenship?
For former natural-born Filipinos who have been naturalized in another country, they may apply for the re-acquisition of their Philippine citizenship. This is in pursuant to RA 9225.
Can I include my dependents for my application of RA 9225?
If your child is under 18 years old, they may be considered as a dependent on your application for RA 9225.
I am a foreign national with a Filipino parent; can I apply for a Filipino citizenship?
For persons born outside the Philippines to a Filipino parent, they may apply for recognition as a Filipino citizen without losing their current citizenship.
Summary
Applying for dual citizenship in Canada is pretty straightforward as long as you know all of the requirements that you have to submit as well as the basic steps in applying for this document, which can be done either by submitting your application through mail or setting an appointment to visit the consular office or the embassy in person.
Just a small note though: If you are going to apply via mail, then make sure to have all of your documents notarized – all copies of it – before you submit them to the consular office. But if you are going to apply in person after you get your appointment at the embassy or the consular office, then there's no need for it to be notarized because everything will be done for you in person when you visit their office. You just need to submit everything and follow their instructions as to what you need to do, especially, once your application has been approved, which is followed by the oath-taking. However, of course, there's always the threat of COVID right now. So if you'd rather not go out, you can always file an application by sending your documents online or by mail. This is one of the things which the Philippine Embassy has done to make things a lot smoother for everyone, especially those applying for dual citizenship in Canada.
Are you planning to apply for dual citizenship soon? How far are you in preparing your documents or application? Is there anything that you would like to share about the process that you are going through right now as you prepare for your application? We'd like to know! Leave us a comment in the section below.
READ NEXT: Services by the Philippine Consulate in Canada and Overseas Labor Office
Contact Information
Philippine Embassy in Ottawa, Canada
Address: 30 Murray Street, Ottawa ON K1N 5M4
Tel. Nos. :  +1 613-2331121
Fax No. :  +1 613-2334165
Email : embassyofphilippines@rogers.com
Timings: 9:00 AM to 5:00 PM, Mondays to Fridays, except Philippine and Canadian holidays.
Google Map Location
Philippine Consulate General in Vancouver Canada
Address: 999 Canada Place, Suite 660 Vancouver, BC V6C 3E1
Phone: 604-685-1619
Fax Number: 604-685-9945
Email: vancouverpcg@telus.net
Timings: 9 AM – 5 PM (Monday to Friday except on Philippine and Canadian holidays)
Google Map Location
Philippine Consulate General in Toronto, Canada
Telephone   (416) 922.7181
Facsimile    (416) 922.2638
Email: consularmatters@philcongen-toronto.com
Timings: 10:00 am to 4:00 pm (except for Philippine and Canadian Holiday)
Google Map Location
Philippine Consulate General in Calgary, Canada
Address: Suite 920, 517 10th Ave. SW Calgary, AB T2R 0A8
Tels.: (403)4559343; 4559346; 4559457; 4559483; (587)577-1524
Email: calgarypcg@dfa.gov.ph/
Timings:  9:00am – 10:00am · 10:00am – 3:00pm; (except for Philippine and Canadian Holiday)
Google Map Location