Finding an organization you can connect with is a good idea for those new to Canada or who want to meet other Filipinos. The good news is there are many Filipino organizations in Canada that you can connect with. We'll talk about them in this article.
Some of these organizations provide support for newcomers, while others offer events like games nights and socials where members engage in activities together. If you're interested in finding Filipino organizations, you can use Google or Facebook search to find them. Here are some of the most popular Filipino organizations in Canada: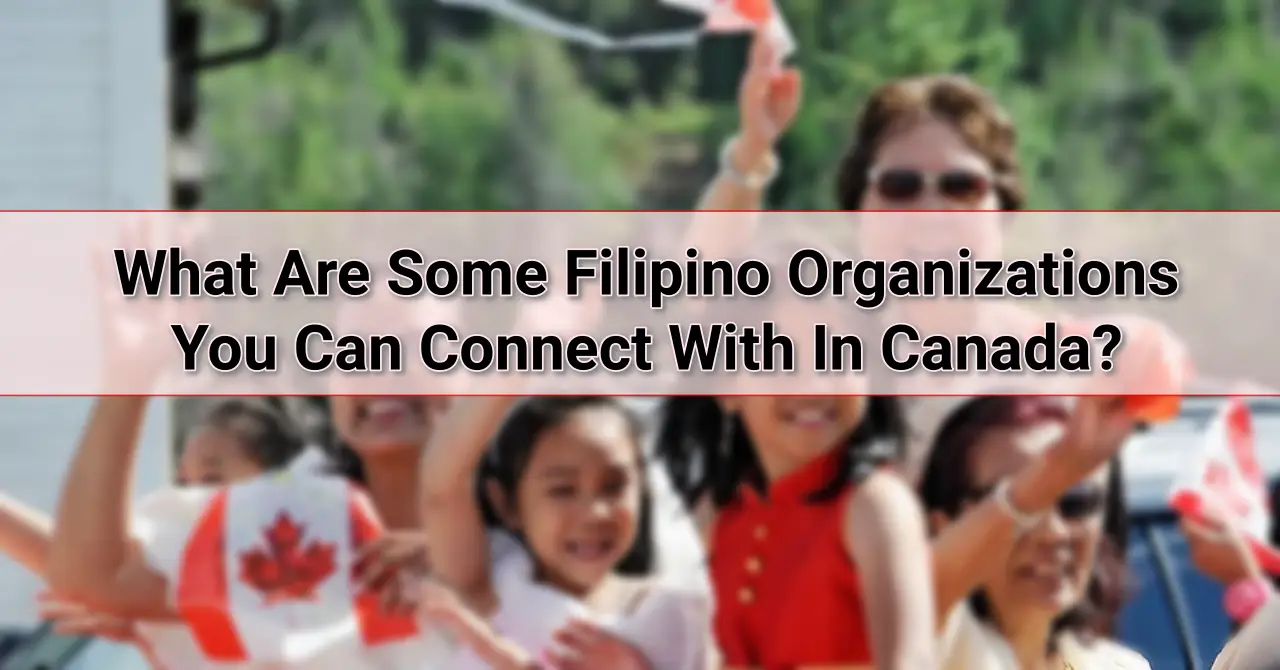 1. United Filipino Canadian Seniors Association of Hamilton
Organization Type: Cultural, Non-Profit
Headquarters: Hamilton, ON
The United Filipino-Canadian Seniors Association of Hamilton (UFCSAH) is a non-profit organization that aims to empower Filipino-Canadian seniors in the city and its surrounding suburbs. It was established on August 19, 1995, as a provincial corporation. Its members include individuals from Lincoln County, Greater Toronto Area, Hamilton, and the surrounding areas.
UFCSAH is a non-profit organization that focuses on helping Filipino-Canadian seniors enjoy retirement, lead productive and social lives, and age with dignity and grace. The group provides educational programs, community activities, and special projects to enhance the quality of life for Filipino-Canadian seniors.
These are the three principles of the UFCSAH.
The first principle is "spirit of compassion." This means that we believe in the value of human life, and that every person deserves dignity and respect.
The second principle is "educate to empower." We believe that education is critical for individuals to grow and thrive, and for society to progress.
The third principle is "dignity for all." We believe that everyone deserves good healthcare, education, justice, freedom from violence and exploitation, food security and housing.
The UFCSAH envisions a world where any senior can live a socially productive, engaging, and positive life.
As people get older, it's important to find ways to stay connected to their communities and have meaningful relationships with others. With UFCSAH, seniors can do that easily by connecting with friends, family members, and neighbors within their area in Canada.
UFCSAH also raises funds for charitable donations and donates to victims of calamities. They assist Filipino-Canadian seniors in hardship. Finally, UFCSAH strengthens the relationship between UFCSAH members and the public via community partnership ventures that promote Filipino-Canadian seniors and their culture.
If you live in or near Hamilton, there are lots of ways to get involved with this organization. They're always looking for volunteers, regardless of skill level. You could help them organize events, run educational programs for children and adults, or even help with special projects like fundraisers or community service projects.
If you have any questions about how you can take part in their advocacies, feel free to visit their website.
2. Philippine Artists Group of Canada
Organization: Cultural
Headquarters: Toronto, ON
The Philippine Artists Group is a non-profit organization that showcases Philippine art. It has also participated in various fund-raising activities and community projects. In 1996, it donated a framed portrait of Jose Rizal to the Philippine consulate general in Toronto. This project was a joint effort between the group and the Knights of Rizal.
In 2004, the PAG collaborated with other artists from France, the US, and the Philippines to hold its first international art exhibition entitled "Convergence Internationale." This event, held in Manila, was the group's biggest yet. In April 2008, the group will be holding another exhibition in Toronto. This time, it will be celebrating its 20th anniversary.
The group's name has been changed to Philippine Artists Group Canada. Its membership has expanded to include prominent Filipino artists in Ontario. Even though it is selective in its acceptance, the group continues to grow in stature.
The group has become integral to the community's efforts to promote Philippine culture and arts. It is a fitting organization for the many Filipinos who relocate to Canada as they look to build new lives in their new country. The PAG is also a representative of the country's cultural past. It is the voice of the Filipino people and the custodian of their valuable visual arts.
3. Babae – Council of Filipina Canadian Women
Type: Non-Profit
Headquarters: Calgary, AB
BABAE – The Council of Filipino Canadian Women was established in 2003. It's made up of women who are passionate about building communities in their local community. Many of them were involved in various social work projects in the Philippines. When they moved to Calgary, Alberta, they noticed an urgent need to build a stronger community.
The founders of the organization signed the Society's Articles of Association and bylaws on September 17, 2003. BABAE was then named after them.
BABAE is unique because its members are mostly immigrant women who are passionate about building communities in their local area. They also encourage the use of Filipino language. The organization's main goal is to raise the status of Filipino-Canadian women in the country.
The group is made up of immigrant women who are working in immigrant-serving roles. Some of its members are linked to various organizations such as the Ethno-Cultural Council of Calgary (ECCC), Centre for Newcomers (CFN), and Calgary Catholic Immigration Society (CCIS). Others have extensive expertise in human rights workshops and immigration consultants.
Through the use of Filipino language, immigrants can now access a variety of social services that they previously had no access to. This helps them become more equipped to face the challenges of life in Canada.
BABAE is a non-profit organization that aims to support Filipina-Canadian women and their families. In doing so, they will:
• Foster a leadership and collaborative role with other organizations to promote and develop skills of Filipina-Canadian women
• Help Filipina-Canadian women deal with issues such as settlement, health, family conflict, parenting, mental health and others
• Provide means for disseminating information using modern technology
• Build partnership, collaborate and liaise with various government agencies and private organizations regarding issues affecting Filipina-Canadian women and their families
4. Filipino-Canadian Association of Saskatchewan, Inc.
Type: Cultural, Non-Profit
Headquarters: Saskatoon, SK
The organization has been around for nearly 40 years due to the dedication of its volunteers. As the Filipino population grows in Saskatoon and across Canada, they recognize the value of intercultural leadership and cooperation in building a stronger community. They appreciate all members' dedication and the Board's leadership in ensuring that FILCAS reflects the various parts of our society. One of their main goals is to preserve and promote Filipino culture. The organization's mission is to develop collaborations with community organizations that promote collaboration, peace, and harmony.
Their mission is to promote and preserve Filipino culture and to encourage youth and a stronger community. They do this by providing outstanding leadership, assistance and support to the Filipino community in Saskatoon.
Moreover, their vision is to create a strong, sustainable Filipino Heritage for the community.
As a member of the Association, you will be entitled to discounts from our partners.
10% off on your purchases from Hillcrest Memorial
$10 discount from Umac Express Cargo
$10 discount from Sunfreight Express Cargo
Those who want to become a member of the FILCAS will find the process quite easy.
Just go to the FILCAS website, filcas.ca, and download the membership form. Fill it out, then email it to filcas@sasktel.net with your payment information—you can pay via e-transfer or cash in person at their office at 18-115 3rd Avenue South, Saskatoon, SK.
5. Kababayan Multicultural Centre
Type: Cultural, Non-profit
Headquarters: Toronto, ON
The Kababayan Multicultural Centre was established in 1977 by members of the community, including Tessie Jew, Voltaire de Leon, Helen Mascardo, and Ruben Cusipag. Over the years, the organization has been able to help the Filipino community in Toronto. It has also been a strong advocate for the rights of newcomers in the city. As we continue to grow, we are committed to empowering all racial groups in Canada to achieve social inclusion and equity.
The organization aims to help Filipinos find their place in Canada. They are a not-for-profit organization that helps newcomers to Toronto settle into their new homes and communities.
They provide a range of services including information on education, employment, life skills development, and community connection. They offer these services in multiple languages including English, Hindi, Farsi, Nepali, Spanish, and Tagalog.
Their mission is to empower Filipinos to achieve equity and full access to economic, political, and socio-cultural opportunities in Canadian society.
Moreover, the goal of the KMC is to help build a strong immigrant community in Toronto. It is dedicated to celebrating the cultural heritage of the Filipinos and working toward social inclusion and equity through:
– Providing settlement aid to newcomers in order to enhance their integration
– Using people-centered approaches to service delivery
– Recognizing newcomers' abilities, experience, and education
– Collaborating with partner agencies and groups to build a just and compassionate society
6. United Filipino Canadian Associations in British Columbia
Type: Cultural:
Headquarters: Vancouver, BC
More than 40 Canadian-Filipino organizations registered in British Columbia formed the United Filipino Canadian Associations in British Columbia in 2015.
It was the progeny of the former Pista ng Bayan Society, which had organized Philippine Independence Day celebrations in Vancouver for many years under the auspices of the Philippine Consulate General in Vancouver, including the Annual Independence Day Gala and the "Pista ng Bayan" outdoor event.
The formation of the UFCABC indicated that Vancouver's Filipino community has evolved to the point where it can stand on its own and create these events as truly community-driven.
1. To instill in all Canadians of Filipino descent a spirit of camaraderie, remembering, and cooperation.
2. To serve as a unifying and coordinating force in the preservation and promotion of the Filipino people's rich culture, legacy, custom, and way of life, as well as to advance a distinct Filipino-Canadian identity within the province of British Columbia's multicultural fabric.
3. Recognize the uniqueness of all established Filipino-Canadian organizations in British Columbia and work together to develop similar interests and goals.
4. Contribute to the provision of cultural and recreational events so that Filipino-Canadians in British Columbia can maintain peaceful relationships.
5. To lead and organize all Filipino-Canadian organizations' joint socio-cultural activities, including fund-raising efforts.
6. To arrange community forums, meetings, and debates on critical local, national, and global issues facing Filipinos in British Columbia.
7. Strive to build a venue where Filipinos can assemble, mix, share ideas, and discuss future-beneficial issues.
8. To provide assistance to Filipino citizens in times of distress and emergency through recognized charitable organizations.
9. To promote multiculturalism, work with international and intercultural groups.
7. Migrante B.C.
Type: Human Rights
Headquarters: Vancouver, BC
Migrante BC is a community-based organization in British Columbia, Canada, dedicated to defending and enhancing the rights and well-being of Filipino immigrants and migrant workers.
They feel that migrant Filipinos should be organized into a separate group.
They never lose sight of the importance of fighting for one of the most fundamental rights shared by all Filipinos: the right to good work at home. They claim that Filipino migrants, wherever they are, deserve the best promotion and protection of their rights.
Migrante BC thinks that the migration of Filipinos overseas is a result of the Philippines' extreme poverty and unemployment, and that the Philippine government's labor export strategy program fosters the commercialization of Filipino labor.
8. Migrante Alberta
Type: Non-Profit, Human Rights
Headquarters: Edmonton, AB
Migrante Alberta was established in August of 2013. It is affiliated with Migrante Canada, a nationwide network of 20 organizations that serve Filipino migrants from British Columbia to the Maritimes.
Migrante is a charitable self-help and advocacy organization. They address the pressing needs of migrants and their fellow citizens in Alberta. They provide assistance through referrals, advocate for migrants, and conduct campaigns on their behalf. They have extensive collaboration with community-based organizations and labor unions.
They raise public awareness of the plight of migrants and precarious workers through various channels in an effort to gain widespread public support and a pro-migrant public consciousness with a vision for change.
They continue to build ties and a vast network of activists in order to encourage strong support for all migrant workers. Among their supporters are labor unions, grassroots migrant organizations, women's organizations, and workers' organizations. They also engage in debate and seek audiences with relevant government authorities (in both Canada and the Philippines) to analyze immigration policy and legislation.
They foster international cooperation among migrant associations under their umbrella organization. Migrante is a member of the International League of People's Struggles (ILPS) as well as the International Migrants Alliance (IMA).
9. Migrante Canada
Type: Non-Profit, Human Rights
Headquarters: Mississauga, ON
Migrante Canada is a branch of Migrante International, a global alliance based in the Philippines with over 200 member organizations from 23 countries. Migrante Canada was founded in October 2010 and now has thirteen chapters and member groups around the country. Their corporate headquarters are in Vancouver, Calgary, Red Deer, Edmonton, Fort McMurray, Winnipeg, Toronto, Barry, Ottawa, Montreal, Sherbrooke, and Quebec City.
The Migrante-Canada is a national organization that advocates for the rights and welfare of migrants and our compatriots in Canada.
They work with their chapters and member organizations to achieve these goals.
They receive complaints of migrants in distress, support settlement and immigration needs of members and the community through direct services and referrals;
They bring the issues facing migrants to public attention through fora, conferences, different multi-media platforms to create public awareness in Canada;
They conduct research, case studies, and documentation independently or together with the academic community on the complex situations of migrants;
They continue to build a broad network of advocates and volunteers, alliances and coalition with the goal of supporting migrants and compatriots in Canada;
They work and cooperate with other migrant communities, labour unions and community groups;  and  they promote the International Migrants Alliance (IMA), a global alliance of grassroots migrants from different countries.
As members of Migrante International, they aspire to:
Promote migrants' rights and dignity in the face of all types of discrimination, exploitation, and abuse on the job and in the community, and oppose all anti-migrant legislation.
– Make use of their right to organize.
– Strengthen Filipino diaspora solidarity by rallying their families and activists in support of migrants' rights to employment, good wages, and proper recognition.
– Promote the establishment of a self-sufficient economy in order to prevent forced migration, increase social equity and justice, and collaborate with other sectors of society to advance national development and democracy.
– Build solidarity with migrant organizations from other nations and peoples who fight economic plundering, environmental degradation, and violent wars that cause widespread poverty and injustice.
10. Kapit-Bisig Canada
Type: Non-Profit
Headquarters: Toronto, ON
In Tagalog, Kapit-Bisig means "linking arms." We are a group of Filipinos, supporters, and concerned members of the local community. We are women, young people, students, migrants, laborers, and professionals, as well as churchgoers.
They are a coalition of progressive organizations from across Canada working toward a common objective.
Final Thoughts
Finding Filipinos in Canada should not be too difficult. There are a lot of Filipinos living in different provinces and cities all over Canada, so you should be able to find them easily enough. Make sure you know where they live first before heading out there.
Moreover, through the help of the above-listed resources, you should be able to find Filipinos in Canada quite easily. If you have any questions or comments, please leave them below.
READ NEXT: 10 Reasons Why Filipinos Move to Canada