One of the things you may be required to do when filing a document or transacting with the Philippine Embassy or consulate is having your document "notarized". If you're not familiar with this process, you shouldn't be alarmed because even when you're overseas, say, in Canada, you can easily get this service done in just a few simple steps.
Also Read: List of Certified Filipino Voters in Canada for 2022 National Elections
Remember, this service is only provided by the Philippine foreign service post, so before you book an appointment at the embassy or consulate, be sure to go through this guide so you would know what to expect and how to go about this process without a hitch. If this has got you interested, then be sure to read until the end!
Guide on Notarizing Your Documents (Special Power of Attorney) in Canada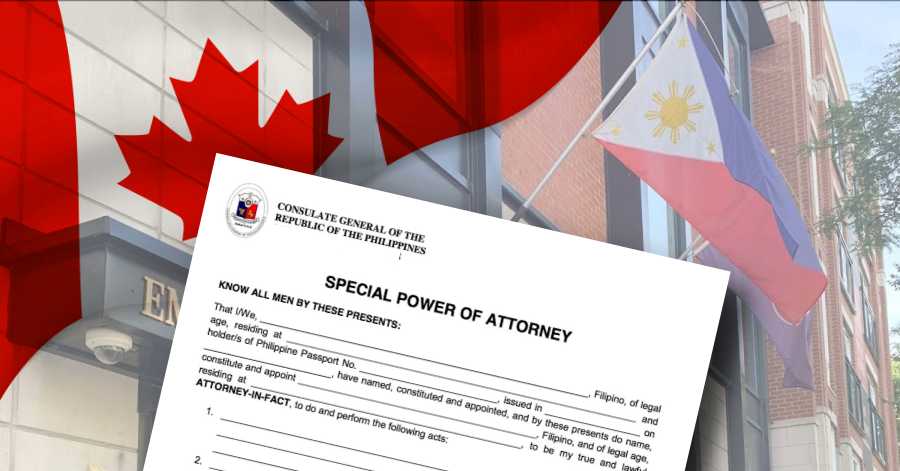 A special power of attorney is a written authorization that enables an individual to act on another's behalf in certain legal matters. The person who is the authorized signatory is the attorney-in-fact, whereas the person who authorizes the other to act is usually the principal, grantor, or donor.
What is a Special Power of Attorney?
Some legal documents such as a Power of Attorney, Affidavit, Deed of Sales, and Parental Travel Permit in Canada can be used in the Philippines. But these need to be either authenticated or acknowledged by the Philippine Embassy or Consulate-General in Canada to be valid.
Notarizing documents has three purposes:
To ensure the transaction can be independently verified after the fact;
To ensure the intended person signs the document under their own free will; and
To ensure the person signing a document is properly identified
Notarization is a system that prevents fraud. Notarization officers are usually the front line of defense in a legal battle.
An authentication is the placing of a foreign authority's seal over that of a Philippine embassy or consulate. A consular authentication is not an assurance that the contents of a document are authentic. The embassy or consulate are not their responsible for the authenticity of the contents of the documents notarized, as they are just validating the seal and signature of the issuing party.
A Power of Attorney is a legal document that gives someone the authority to make financial decisions for you. It's typically signed by a notary public.
As a consumer, you're also protected by notarization. Since people must identify themselves when they visit a notary, it's important to ensure that someone can't act in your name on their behalf. Also, it prevents someone from transferring power of attorney in your name.
Requirements
Having your document authenticated or notarized is simple as you only need to present the following documents:
Original and photocopy of the document;
ID of the applicant or applicant's representative; and
A self-addressed Canada Post registered mail or Xpresspost envelope (for mailed applications only)
Fees
As for the consular fee for this service, you will only need to pay CAD 36.25 (CASH or Money Order payable to the Philippine Embassy or Consulate-General). Remember, the Embassy or Consulate-General does not accept card payments. Also, a fee is charged per document to be authenticated.
Procedure
Now that you have gathered all the requirements for this transaction, it's time to submit your documents to the foreign service post. However, before you proceed, you will need to comply with these steps:
Book an appointment either online or request an appointment for the notarial services by sending an email to the embassy or consulate-general.
Fill up and submit a Health Declaration Form on-site once you visit the foreign service post.
However, in the event that a document CANNOT be executed in person, the concerned individual must provide a Consular Officer with a note, and perform the following steps:
STEP 1: Have the document notarized first by a Public Notary.
STEP 2: Securing the seal and signature of a lawyer or notary public requires that the two be authenticated by a person who has experience in handling similar transactions, such as:
The Law Society is a legal organization that accepts applications from persons who are qualified as a lawyer or a barrister; OR
The Society of Notaries Public is also known as a lawyer organization. It informs the public about the status of the notary public in a province.
In both cases, the consulate general only authenticates the signature of the person who executed the document.
If the signature of the notary public is not present in your place of residence, the office of the lieutenant governor will verify it.
Video: Document Authentication in Canada
Here is a short video guide on the purpose of authenticating documents at the Philippine Foreign Service Post in Canada, which includes the Special Powers of Attorney (SPA). This guide details what you need to bring, and  what  you can expect in the process. If it's your first time to do so, don't worry. The process is relatively straightforward, and you shouldn't have any issues for as long as you get all the steps and requirements right. With this in mind, be sure to keep a copy of this guide for future reference when using the Philippine Embassy or Consulate-General's notarial services.
FAQs
When do you need an SPA?
If you are in Canada and would like to sell your real estate properties in the Philippines, but do not want to go anywhere, then you can just execute an SPA. For example, if you are buying a condo in the Philippines, you need to execute an SPA before you can sign any documents or submit a bank loan application.
Is an SPA always required if you need someone to do things for you in the Philippines?
Sometimes, an SPA is required depending on the nature of the work that needs to be done.
It is best to confirm with the people or offices that you intend to deal with in the Philippines before getting an SPA. Generally, if you are planning on doing business in the country, such as banks or real estate developers, then an SPA should be requested.
There are various instances when an SPA would be required in the Philippines:
Having someone accompany your little child when applying for a passport;
Having someone acquire a copy of your school transcript;
Having someone apply for a loan or make a claim on your behalf; or
Having someone file a lawsuit on your behalf.
Does the SPA need to be authenticated or consularized?
An SPA in Canada can be authenticated or consularized depending on the institution you are dealing with. Doing so will help avoid wasting time and money.
What does "authenticated" or "consularized" mean?
Your SPA is officially recognized in the Philippines once it has been authenticated by a competent authority. This process usually involves getting consularized at a local consulate.
If your SPA was signed in front of a notary public, then it should be authenticated or consularized by the Philippine Consulate General in Canada. You can get your SPA consularized by yourself or through the Philippine Consulate General in Canada. Follow the instructions of the local authority.
How long does it take for an SPA to be issued at the Philippine Embassy or Consulate-General?
Usually, it takes about 2 to 3 business days for the regular processing of your Power of Attorney. After that, send it back to the embassy and provide your representative with the necessary documents.
Who are the ones eligible or authorized to be my representative or to be granted the Consularized Special Power of Attorney in the Philippines?
As an OFW or overseas Filipino, you are only granted the authority to sign documents in the Philippines on behalf of your family members. The people in your immediate family are considered your legal representative.
Can I be jailed if I forfeit the signature of my representative in my Consularized Special Power of Attorney form?
Whether it's a consular document or not, the forfeiture of information is illegal. Under the Revised Penal Code, anyone who knowingly falsifies a document or causes it to appear as if they participated in a proceeding is guilty of imprisonment up to 6 years.
Summary
Getting a special power of attorney in Canada is very straightforward. First, you will only have to secure all the required documents. Next is to book an appointment at the Foreign Service post in which you are closest. Then after that, you just have to submit everything in wait for further instructions from the action officer and that's it.
Getting a special power of attorney has many benefits. This is especially important when you have major transactions that needed to be done in the Philippines. But you are enabled to physically execute these things because you are currently overseas or staying in other countries like Canada or elsewhere.
To be on the safe side, it's always advantageous to get these kinds of documents in order to protect yourself against fraud, scams, and other malicious activities which is very rampant on the internet these days. Since getting an SPA is very convenient you should definitely consider getting one, especially if you have important things to transact in the Philippines without you having to be physically there or have someone take over these matters for you. It's just a simple way of protecting yourself.
It's not every day that you need to get your document notarized or authenticated by the Philippine Embassy. Because of this, you need to prepare and plan your application ahead of time. Make sure to always have all the required documents with you and work within a schedule this way. You wouldn't be surprised when you encounter some unexpected delays or some issues when you file your application.
Hopefully, through the help of this guide, you were able to gain some insight on what an SPA is, and what it can be used for. More importantly, it should give you an idea of what you should do, and what you can expect when you file for an application for this document at the Philippine Embassy or any Philippine Consulate General in your area. With that, make sure to keep a copy of this guide and feel free to share it with your friends, family or anyone who might have any purpose for this document in the future.
Are you thinking of applying for a special power of attorney? What do you need it for? Have you tried applying for one at the Philippine Embassy or any of the Philippine consulates in your area? If so, do share your experience and let us know how it went for you. We'd like to know! Feel free to leave a comment in the section below.
READ NEXT: Services by the Philippine Consulate in Canada and Overseas Labor Office
Contact Information
Philippine Embassy in Ottawa, Canada
Address: 30 Murray Street, Ottawa ON K1N 5M4
Tel. Nos. :  +1 613-2331121
Fax No. :  +1 613-2334165
Email: embassyofphilippines@rogers.com
Timings: 9:00 AM to 5:00 PM, Mondays to Fridays, except Philippine and Canadian holidays.
Google Map Location
Philippine Consulate General in Vancouver Canada
Address: 999 Canada Place, Suite 660 Vancouver, BC V6C 3E1
Phone: 604-685-1619
Fax Number: 604-685-9945
Email: vancouverpcg@telus.net
Timings: 9 AM – 5 PM (Monday to Friday except on Philippine and Canadian holidays)
Google Map Location
Philippine Consulate General in Toronto, Canada
Telephone   (416) 922.7181
Facsimile    (416) 922.2638
Email: consularmatters@philcongen-toronto.com
Timings: 10:00 am to 4:00 pm (except for Philippine and Canadian Holiday)
Google Map Location
Philippine Consulate General in Calgary, Canada
Address: Suite 920, 517 10th Ave. SW Calgary, AB T2R 0A8
Tels.: (403)4559343; 4559346; 4559457; 4559483; (587)577-1524
Email: calgarypcg@dfa.gov.ph/
Timings:  9:00am – 10:00am · 10:00am – 3:00pm; (except for Philippine and Canadian Holiday)
Google Map Location