Canada is a country that many OFWs from the Philippines are looking forward to work in. Aside from the many opportunities, OFWs can take advantage of, Canada also has favorable conditions for an overseas job. And for those who already have, it's crucial that you know where to go to when you need help or assistance from the Philippine government – and that is none other than the Philippine Embassy in Canada, located in Ottawa, the nation's capital, where the majority of the Filipino community can be found.
However, if it's only your first time visiting, you might find it difficult to discover reliable information and make contact with the Filipino community. The good news is that the Philippine Embassy can help you with a range of difficulties. However, before you get started, make sure you understand why you need to go, where you need to go, what to do before and during your visit, and what to expect during your stay – all of these topics will be discussed in this guide.
The first step in determining how you could profit from the Philippine government-assigned mission is to gather all of the information you'll need to visit, contact, and request assistance from the Philippine Embassy in Ottawa, Canada. If this is the case, you should keep reading. All of the fundamental information you need about the Philippine Embassy in Ottawa, Canada, as well as pointers on how to use their services more successfully, can be found right below.
What is the Purpose of the Philippine Embassy In Ottawa, Canada?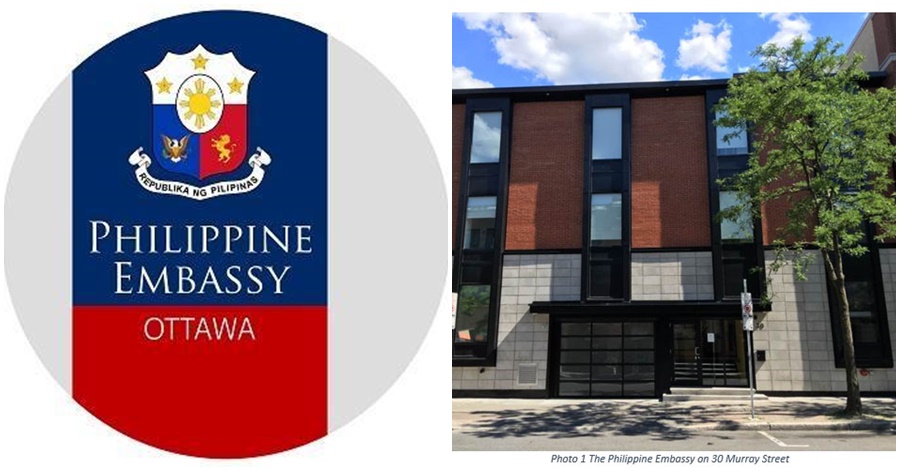 The Philippines' first embassy in Canada was opened in Ottawa on March 1, 1971. Privado G. Jimenez became the first Filipino ambassador to Canada.
In May 2019, the DFA recalled several Filipino diplomats to Canada in order to pressure the Canadian government into resolving the long-running waste dispute between the Philippines and Canada. The issue had been resolved shortly after the diplomats were sent back.
he Embassy of the Philippines is focused on developing long-term relations between Filipino Canadians and their home country. In 2014, it organized the Winter Escapade, which brought Filipino Canadians to the Philippines for a week of touring.
The Philippines' first tour to Canada was successful, generating over C$1 million in economic output. It was organized by the Philippine embassy in Canada.
The Embassy of the Philippines in Canada provides consular services to over 50,000 Filipinos in Quebec, Ontario, and Atlantic Canada.
Filipino Canadians are a subgroup of the overseas Filipinos in Canada. They are the fourth largest group in the country.
In addition, Canada has become a home to many Filipinos. Over the years, many of them have migrated to Canada due to its growing population. They contribute to the country's economic growth by working as nurses, teachers, and caregivers, and taking on blue-collar jobs. With this picture painted for most Filipinos, it's safe to assume that Canada has been one of the best places for Filipinos to work in and ultimately, migrate to. Even in the next five years, the country has opened its borders for various nationalities to enter thru various pathways leading to permanent residency. For those interested in this, you will need to discuss and support your position to become a Permanent Resident in Canada, sooner or later. So, having access to this guide should provide you with information that can help you with your goals to migrate in this country or find work in the short-term.
As you may know by now, Canada is a HUGE country. Therefore, the Philippines' embassy in Ottawa has consular authority over various provinces and territories in Canada. These include Quebec, Newfoundland and Nova Scotia, Prince Edward Island, and Nunavut. These, in addition to other consular missions established in other parts of the country.
As of 2016, there are 52,806 Filipinos within the consular jurisdiction of The Philippine Embassy. The majority of them are from Quebec, with over 100,000 Filipinos residing in the province.
In Canada, everyone is treated equally. This explains why it's considered an ideal place to work/migrate among Filipinos.
And as expected of the Filipinos being hospitable to all, the Philippine Embassy in Ottawa, Canada offers various services, which can benefit both migrant workers and overseas Filipinos residing in this country. If you're interested to know more what these services are, keep on reading below:
What are the services offered by the Philippine Embassy In Ottawa, Canada?
The Philippines maintains embassies and consulates in several countries, including Canada and those in North America. They serve as international go-betweens for the country's interests.
The embassy's mission is to provide specialized services to both local residents and visitors from all around the world.
The Philippine Embassy in Ottawa, Canada, provides a variety of services, including consular services (Authentication Services, Notarial Services, Other Consular Documents, Authentication of Consular Documents Issued in the Philippines, and NBI Form Fingerprinting) and the following:
Passport renewal for adults (18 years of age and older);
Passport renewal for juvenile applicants (17 and under);
New passport application for newborns born in Canada to Filipino parents; and
Passport replacement for lost or damaged passports.
Passport
Philippine citizens are reminded to note the date of their passport's expiration. They should also apply for a new passport at least a year before its expiration.
On January 1, 2018, a change in the validity of Philippine passports was put into effect. It now has a validity of ten years for adults and five years for minors.
Due to the nature of the passport application, applicants must make a personal appearance in order to obtain their biometric information.
Moreover, in accordance with DFA regulations, applicants are required to wear a shirt with collar and sleeves, come without any facial jewellery such as earrings, nose rings/studs, and necklaces; and ladies should not wear heavy make-up.
The consular office of the Embassy can be reached via ottawape.consular@dfa.gov.ph.
The Embassy of the Philippines has resumed its in-person consular services since May 25, 2020, offering passport and renewal as consularization of documents.
All applicants, including seniors and persons with disabilities, must book their appointments through this link: https://dfaincanada.com/otw/appointment.
Applicants for civil registration must apply by mail. You may submit the requirementts to the Embassy of the Philippines at 30 Murray St., Ottawa, ON, KIN 5M4, Canada. The list of documents needed can be found via this link: www.ottawape.dfa.gov.ph/index.php/2016-04-12-08-36-34/2016-04-13-03-10-46/civil-registration.
Legalization of Documents
Although Canada is not a signatory of the Hague Apostille Convention, its documents may be issued in Canada and recognized in the Philippines if they are authenticated and notarized.
These documents are usually issued by authorities in Canada. Some examples of these include Special Powers of Attorney, Affidavits, Contracts, and Letters of Patent.
Please have your documents ready before visiting the embassy.
Also, before going to the Embassy, kindly prepare the documents needed to confirm your identity, such as the original and photocopy of passports.
Acknowledgement: An individual who has been granted legal authority to act on their behalf in the Philippines must appear before a consular officer to confirm and sign the document.
Authentication: Through its consular section, the Philippine Embassy in the Philippines offers authentication and notary services for all documents that are to be utilized in the Philippines.
Certification of Appearance: Applicants who require this document for government services and proof for transactions in the Philippines may request this at the Philippine embassy in Ottawa, Canada.
Civil Registration
Civil registration is a vital record that records the various events in an individual's life, including birth, marriage, and death. It is also used to determine an individual's civil status.
All reports of birth, marriage, and death are submitted to the NSO in the Philippines. Copies of all reports that were submitted by the Embassy may be retrieved in the Philippines within three months after they were received. Civil registry documents are vital records that contain factual details about an event. They can also serve as evidence of the existence of other people. These records record many details about an individual, such as their name, place of birth, and religion. These records are vital to many transactions, such as obtaining a passport, getting a job, claiming insurance benefits, and many more. These records provide vital information about a person's life, such as his or her birthdate, gender, and the number of children born.
Report of Birth: The Report of Birth provides a declaration of the child's birth to parents, who are at least one of whom are citizens of the Philippines.
If the child's birth is registered with the embassy, the parent(s) will need to submit a Report of Birth at the Office of the Civil Registrar.
If the parents fail to report the birth within one year after its occurrence, the child's birth may still be recorded if the consular officer is satisfied with the authenticity of the report.
Report of Marriage: To register their marriage, the couple must go to the Philippine Embassy or the Consulate General of the Philippines. This process will involve the issuance of the Report of Marriage and the submission of the necessary documents.
Ideally, the marriage should be reported within one year after the event. If the parties fail to report the marriage within that period, the marriage should still be recorded.
Report of Death: It is the duty of the Philippine Consulate General or the Philippine Embassy to report the death of a Filipino abroad. The report should be submitted to the nearest Philippine embassy or consulate.
Dual Citizenship
On August 29, 2003, the Republic Act 9225, or the Citizenship Retention and Reacquisition Act of 2003 has been passed into law. This law allows natural-born Filipinos who lost their citizenship due to their immigration status to regain it through a voluntary surrender.
Individuals who became natural-born Filipinos may apply for their citizenship back by filing a petition on their own behalf. This process can be carried out for both men and women.
Individuals who reclaim their Filipino citizenship as a result of RA 9225 are entitled to full civil and political rights under Philippine law. Among these are, for example, the following:
the right to own property and land in the Philippines;
the right to conduct business or trade as a Filipino;
the ability to travel in the Philippines with a Philippine passport;
the ability to vote in Philippine elections while overseas (by pre-registering for Overseas Absentee Voting);
the right to practice one's profession, provided that a license or permit to do so is secured from the Professional Regulation Commission (PRC) or, in the case of lawyers, the Supreme Court.
In 1997, the income earned by Filipinos abroad was no longer taxable. This means that those who reacquired their Philippine nationality after 1998 can no longer pay income tax on their earnings abroad.
Solemnization of Marriage
The Embassy only approves the marriage of two Filipinos who are both eligible to marry under the Philippine law. To get married, both the bride and the groom must appear at the embassy and submit the necessary documents.
NBI Clearance
The National Bureau of Investigation can accept online applications for clearance. You can also get in touch with the embassy or consulate for assistance. Individuals who are seeking to acquire NBI clearance can visit the Philippine Embassy for help. Doing so will involve getting their fingerprints authenticated. An officer will help the applicant roll their fingerprints and indicate the relevant areas.
Travel Tax Exemption
If any Filipino based in Canada apply for tax exemption and enter the Philippines within a year, then they are exempt from paying travel tax. However, they need to present a proof of residence to the authorities before they can enjoy this benefit.
Importation of Personal Effects
Section 105 of the Philippine Tariff and Customs Code, as revised by Executive Order No. 206, grants duty and tax exemptions to the following individuals, the extent of which is determined by their specific status:
Returning Resident: A Filipino national who has traveled overseas and is now returning to the country. Only Returning Residents who have lived abroad for at least six (6) months prior to their return to the Philippines are eligible for duty and tax exemptions.
Overseas Filipino Worker (OFW): Filipino national who works in a foreign country on a contract basis. Only OFWs who have been in the country for more than six (6) months are eligible for duty and tax exemption.
Former Filipino: refers to a Filipino national who has acquired a foreign citizenship can return to the Philippines and take advantage of the country's tax and duty exemption privileges.
A BALIKBAYAN is an OFW or a former Filipino citizen who has lived abroad for at least a year. He or she is entitled to various privileges and tax free privileges upon returning.
Overseas Absentee Voting
All persons of the Philippines who are at least 18 years old on the day of the National Elections, and who wish to vote for various officials and individuals must submit their applications for registration as overseas absentee voters thru their host country's Philippine-assigned mission.
Verification of Employment Contract
This service is applicable to Canadian employers who are looking for overseas Filipino workers. Before hiring, they should verify the contract with the Philippine Overseas Labor Office in Toronto.
Balikbayan Program
The Balikbayan Program was launched by the Philippine government to encourage overseas Filipinos to visit their motherland. It was aimed at attracting more people to visit the Philippines.
Family members and former Filipino nationals can visit the Philippines without visas for up to 21 days. They can stay in the country for a maximum of one year.
Foreign Surgical/Medical Missions
Foreign surgical and medical missions are activities carried out by various international organizations and groups. This is done under the Philippine Embassy's efforts to reach out to the Filipino community
LTO Admin Order
This Order applies to Filipinos who held an authentic Philippine driver's license at the time of their departure from the country and are currently residing overseas. The license may be renewed by a duly authorized representative of the license holder, and such renewal, as evidenced by the Official Receipt or Payment, will validate the already expired driver's license.
Export of Pets and Plant Products
Exporting or bringing of pets or plants from the Philippines to Canada requires legal documentation. The Philippine Embassy can help you with this by contacting them first for assistance.
Pets and plant products brought into the country without the necessary identification will be denied entrance and returned to the country of origin beginning June 1, 2018. The importer will be responsible for all costs incurred.
Departure Formalities
According to Republic Act No. 9208, also known as the "Anti-Trafficking in Persons Act of 2003," and its Implementing Rules and Regulations, and Republic Act No. 8042, also known as the "Migrant Workers And Overseas Filipinos Act of 1995," as amended by Republic Act No. 10022 and other related laws, the following guidelines, providing for definite parameters in the strict enforcement of immigration departure formalities intended to prevent trafficking in persons, are in effect. All parties involved must implement/comply.
Pag-IBIG Fund
This law, which became effective January 2010, requires mutual funds to cover overseas Filipino workers. This means that all Filipino immigrants, as well as those who are permanently residing in other countries, can now join the fund. By becoming a Pag-IBIG fund member, you can have access to various benefits, including loans, savings, and other investment opportunities. All you need to do is to register at the Philippine Embassy and provide all of the documentary requirements, and get started with your member contributions.
Visa
The admission of foreigners to the Philippines is governed by a law enacted in 1940. The Bureau of Immigration enforces the country's immigration laws and regulations. It also issues visas for foreign nationals. The Philippine Embassy in Canada is authorized to issue visas to Canadian citizens and permanent residents of Canada. A Philippine Visa is an endorsement that a consular officer at a Philippine embassy or consulate overseas has given to a prospective visa holder for travel to the Philippines. The bearer is permitted to enter the country after securing the necessary permission from the immigration authorities. A visa is not a guarantee that a person will be admitted to the Philippines. It is only a guarantee that the holder will get into the country after paying the entry fee.
The period of validity of a visa can vary depending on the country of destination and the length of stay that the individual wants to take.
A three-month validity visa allows a person to enter the Philippines within three months of the date of issuance of the visa. Upon arrival in the country, the Immigration officer may issue an initial stay of up to 59 days.
Citizens from certain countries may be able to travel to the Philippines without a visa. The following are the most prevalent forms of Philippines visas.
Non-immigrant visas
Temporary visitor's visa
Transient's visa
Seaman's visa
Treaty trader/Investor visa
Diplomatic visa
Student visa
Pre-arranged employment visa
Immigrant visas
Quota immigrant visa
Non-Quota immigrant visas
Special visas
Special non-immigrant visas
Special non-immigrant work permits
Special immigrant visas
Assistance To Nationals
As a result of the pandemic, many Filipinos have been deported to their home countries. People from the United Arab Emirates and other parts of the world are included. Filipinos in such situations, as well as those who are experiencing additional hardships, can seek assistance from the Philippine Embassy.
If you or someone you know requires repatriation, you must have the following documents ready:
your personal information sheet,
Affidavit, and
Repatriation Investigation Form,
along with copies of your passport data page and visa page.
You can complete these tasks and submit them to the Philippine Embassy online.
Travel Document
The Philippine Embassy may provide a Travel Document in lieu of a conventional passport to Filipinos who have lost their passports or are unable to obtain one. Those who need to return to their home country may find this material useful. An adult applicant may apply in person for this document on behalf of their minor child.
Here are some reminders released by the Philippine Embassy in Ottawa:
A Travel Document should be used to avoid the usual passport renewal process only for emergency situations and urgent cases.
A Travel Document may only be used for one-way travel to the Philippines.
Overseas Voting Registration
Under Republic Act No. 9189, as modified by Republic Act No. 10590, all Filipinos living abroad who are not barred by law, are at least eighteen (18) years old on May 9, 2022, and are registered overseas voters are eligible to vote in the National and Local Elections.
As this is something that's quite relevant today since the national elections are coming up very soon, Filipinos in Canada are encouraged to contact the Philippine-assigned mission in their country to
OFW ID Application
The OFW e-CARD is a new identity card that functions as an OWWA membership confirmation as well as an OFW OEC.
It will take the place of the iDOLE OFW ID card, which was ridiculed for having ambiguous eligibility rules and a photo of President Rodrigo Duterte on it.
Simply present the ID card to the OWWA Regional Welfare Office, the Philippine Overseas Labor Office (POLO), the Department of Foreign Affairs, the Philippine Overseas Employment Administration (POEA), the Bureau of Immigration, and Philippine embassies or consulates in the countries where they work to gain access to OWWA services and initiatives.
Where Is the Location of the Philippine Embassy in Ottawa, Canada?
In Ottawa, Canada, the Philippine Embassy can be located in 30 Murray Street, Ottawa, Ontario, K1N 5M4.
If you're coming from the National Arts Centre, one of the city's most popular city landmarks, there are a few options for getting to the Philippine Embassy in Ottawa, Canada:
By walking via Elgin St, Regional Rd-42 (4 mins, approx. 0.3 kms)
By Car via Regional Rd-42 (2 mins, approx. 0.3 kms)
What is the Contact Number of the Philippine Embassy in Ottawa, Canada?
The Philippines' embassy in Canada is located in Ottawa, Ontario. You can contact its embassy by telephone at 613 233 1121 or email ottawa.pe@dfa.gov.ph.
What is the Website of the Philippine Embassy in Ottawa, Canada?
To discover more about the Philippine Embassy's services in Ottawa, Canada, go to https://ottawape.dfa.gov.ph/. In addition to the services provided on their website, you can receive important government updates and notifications.
The following is a summary of the services provided by the Philippine Embassy in Ottawa, Canada.
Issuing emergency travel documents
Legalization of documents
Police Clearance Certificate (PCC)
Process passport applications
Process visa applications
Registration of marriage, birth, and death
Renunciation of Philippine Citizenship
Retention/Re-acquisition of Philippine Citizenship
What are the Social Media Platforms of the Philippine Embassy in  Ottawa, Canada?
The Philippine Embassy in Ottawa, Canada, has an official Facebook page (facebook.com/PHinCanada/) and Twitter page (twitter.com/PHinCanada) where they may communicate with more Filipinos in the nation as well as those interested in visiting for job or other purposes.
How to Make an Appointment to Visit the PH Embassy?
The Philippine Embassy in Canada limits the number of visitors to those with passport applications and renewals only or their in-person services. As a result, the Philippine Embassy in Ottawa, Canada created has set up this platform for reserving appointments when availing of consular services from the Embassy's services: https://dfaincanada.com/otw/appointment.
Note: Because of Ontario COVID-19 limits on large gatherings, the Embassy is restricting the number of consular applications each hour and will not accept walk-in clients. This implies that the priority lane ordinarily reserved for older citizens, children under the age of seven, pregnant women, and people with disabilities (PWDs) has been closed to ensure the protection of vulnerable individuals.
Important Reminders:
– All that is required of individuals is to enter their information and wait for an email confirmation of their embassy appointment.
– They must provide a printed copy of the email confirmation at the gate.
– Appointments are non-transferable as well.
– Passport appointments, according to officials, are free of charge. They have invited Filipinos to report anyone selling passport appointment times so that they can be prosecuted.
– Additionally, as previously noted, passport appointments are free of charge. The general public is encouraged to report "fixers" who sell passport appointment slots so that legal action can be taken if necessary.
Meanwhile, non-emergency applicants for other consular services such as legalization, dual citizenship, and civil registration must submit their applications through mail.
Dress Code
When visiting the Embassy, visitors are recommended to dress accordingly. Please do not wear sleeveless shirts, shorts, slippers, or other improper clothing.
Important Reminders
Bring a copy of your appointment schedule (printed/screenshot) to the embassy on the day of your visit. Also, don't be late – keep in mind that Philippine time DOES NOT APPLY! As a result, arrive at least 10 minutes before your scheduled appointment time so that you can be educated on what to do.
If you need to settle an embassy transaction, pay the precise amount, no more, no less. It should be noted that the embassy only accepts cash payments.
Because there are still some health restrictions in Canada, please follow the following guidelines:

Bring disinfection materials such as alcohol or wet wipes.
While on the grounds of the Philippine Embassy in Canada, wear a face mask.
Always maintain social distance.
Video: How To Get To The Philippine Embassy in Ottawa, Canada
In this video, we see a Filipina based in Ottawa who booked an appointment to avail of consular services at the Philippine Embassy in Canada. She did this online and received an email confirmation of her appointment schedule, as well as a street map of the Embassy. So in this video, her goal is to show her viewers how to easily get to this place while giving a small tour of the city so you would know what you can find the area. This is especially useful for first-time visitors or residents in Canada.
As for the vlogger, she shared that it was her first time to visit so she was feeling quite excited about the trip. Ottawa is a pretty big city, but the good thing about it is that most of the establishments that you need to go to can be found in its downtown proper. As you can see in the video, there were several public buildings you can see or visit along the way. These include the Parliament and the Connaught Building. You can also check out the Byward Market where you can shop for some goods and supplies, or you can have some fun out, especially during your free time. A little further along the way, you'll come across the US Embassy and near the Philippine Embassy is the National Gallery in Canada, which is another popular tourist destination among locals and visitors. You might want to check it out whenever you're in the area.
You might have observed that there weren't a lot of people on the streets. This is because it's still quite cold in the city – and mind you, this video was taken sometime around early spring. So as a final reminder before you book a visit, be prepared not only with your documents but also with your clothing. The good thing about Canada is that most of the places you can visit here are very accessible. Most people here get around just fine by walking around and public transportation is very convenient, too. This is in addition to the fact that most of the things you can visit are found in common districts, where people and families can go to for their needs as well as recreation.
Final Thoughts
Canada is indeed one of those countries where people, especially Filipinos aspire to go to. It's got good programs for its residents, and even for those who want to enter the country and become part of its society.  For this reason, it's crucial that you know what you can expect and get from the Philippine Embassy in Ottawa when you visit. The Canadian and Philippine governments have established a long-standing relationship that has served both parties really well. For this reason, you will see that many Filipinos have benefitted from this relationship, as reflected by the sheer number of those coming to Canada, whether for work, study, or other purposes. And in all these, you need to remember that the Philippine mission here in Canada, including the Embassy in Ottawa and other consular offices, will play an important role in getting meeting your objectives, whether to arrange your residency in Canada, find work, study, or connect to local Filipino communities here. Hopefully, after reading this guide, you can do just that. That said, make sure to keep a copy of this resource and share it with others whom you think can benefit from this, as well.
READ NEXT: Cost of Living, Monthly Expenses for Filipinos in Canada
Contact Information:
Address: 30 Murray St, Ottawa, ON K1N 5M4, Canada
Ten. No: +16132331121
Email: embassyofphilippines@rogers.com
Google Map Location: