Filipinos based in Canada, in case you want to know if have registered and are certified to vote in the 2022 Philippine national elections, you can check out the official website of the PH Embassy.
Also Read: How to Vote in Canada for Philippine Elections 2022
If you are a Filipino overseas worker in Canada who has registered before, you will be able to see your name from this official list. You can download the PDF list from the link below – this comes from the official website of our embassy.
UPDATE: Currently, the Philippine Embassy in Riyadh has not yet posted the certified list of absentee voters (overseas voters), so please stay tuned. As per PH law, COMELEC will release the list of registered voters at least 120 days before the national election dates. Once COMELEC releases the list of names, they will forward it to the Philippine embassies,  consulates, and foreign service establishments. We will keep you posted once this update is released. You can now see if your name is on the list as the COMELEC office has released the official names of Pinoys who can vote this election season.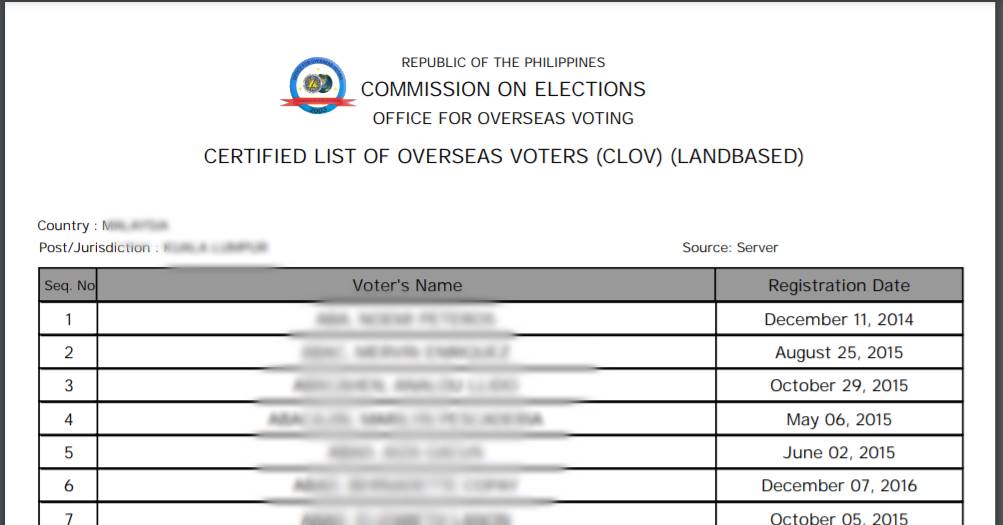 Pinoys in Canada who are Registered and Eligible to Vote in the Philippine Elections
Filipinos in Canada who registered in Ottawa and are qualified to vote for the 2022 National Elections may check their names by using the links.
The list contains the sequence number, Voter's Name, and Registration Date and the files will be separated according to Land-based and Seafarers.
Only those included in this list are allowed to vote. The Phil. embassy Riyadh has posted the list from their website. You can see it here:
Certified List of Overseas Voters in Vancouver, Canada
Certified List of Overseas Voters in Calgary, Canada
Certified List of Overseas Voters in Toronto, Canada
Certified List of Overseas Voters in Ottawa, Canada
How to Search for your name in the list of overseas voters in Canada?
In case you are wondering how you can search for your name, you simply have to choose the PDF file from the list uploaded by the Phil Embassy in Ottawa, Canada. They have compiled it according to alphabetical order using the last names of the registered voters.
All you have to do is open the file based on your Last Name, and then scroll to your name to find if it is listed.
Also Read: How to Renew Your Philippine Passport in Canada
What does it mean if my name is included in the list of Overseas Voters?
It means that you have successfully registered for overseas voting and you can participate in the upcoming elections as overseas absentee voters.
What if my name is not on the list of registered voters?
It means that you are unable to vote in the upcoming 2022 Philippine elections. You may vote in the succeeding elections after this.
If you may have inquiries or need further assistance with your questions about voting in the country, you can contact the nearest Consulate or PH Embassy office. Below are the details:
Contact Information
Embassy of the Philippines in Ottawa, Canada
Address: 30 Murray Street, Ottawa, ON K1N 5M4
Telephone Number: +1 613.233.1121 (Switchboard)
Fax Number: +1 613.233.4165
EMERGENCY NO: +1 613.614.2846
Email: embassyofphilippines@rogers.com
Website: http://ottawape.dfa.gov.ph/
Facebook Page: https://www.facebook.com/PHinCanada/
Google Map Location
In case you are wondering where the Philippine Embassy in Canada is located, below is a map guide for you: