Have you ever dreamed of going to Canada for work? In recent years, Filipinos have increasingly been turning to Canada as a destination for work. The influx of Filipinos to Canada is largely due to the country's growing economy and the availability of high-quality jobs.
Filipinos are attracted to Canada's supportive immigration policies and its reputation as a welcoming and inclusive society. Moreover, Filipinos see Canada as a land of opportunity, where they can build a better future for themselves and their families. With its
Also Read: Top 5 Reasons why Pinoys Go to Canada for Work
There are a lot of reasons why Filipinos want to try their luck in Canada. Many Filipinos travel to Canada in search of a better life for themselves and their families. Higher-income, free healthcare, and free education for children are all tempting benefits.
You have your own reasons why you wanted to go to Canada for work but you didn't know where to start. This article will and guide you in understanding the requirements to get a job via POEA and the employment set-up in Canada.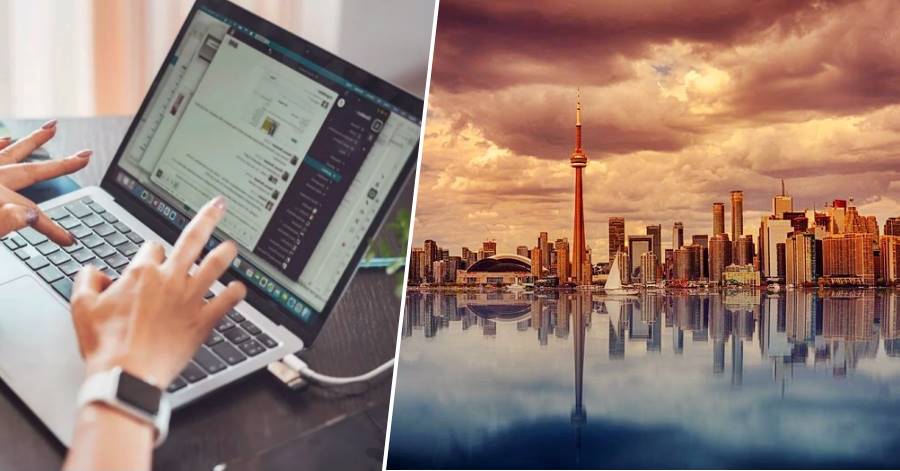 Requirements
To start with, you need to comply with all the requirements in applying for a job in Canada. Here is the list of requirements:
Confirmation Letter/Labor Market Impact Assessment (LMIA)
Work Permit

Contract
Job Offer Letter
Copy of the Labor Market Impact Assessment (LMIA).
LMIA Number
Conditions When Working in Canada
When applying for a work permit, there are specific requirements that you must meet depending on where you are.
However, regardless of where you apply or what type of work permit you apply for, you must prove to the authorities that you will leave Canada when your work permit expires.
Must leave Canada when work permit expires
Comply with the law and have no record of criminal activity.
Do not be a threat to Canada's security
Ensure that you are healthy by getting a medical examination and certification.
Do not work for an "ineligible" employer.
Do not work for an employer/agency that offers sex services such as erotic massages or prostitution
Give the officers other documents they may ask to prove that you can enter the country.
Qualifications
Make sure you're aware of your options and eligibility. There are two circumstances that may make it difficult for you to find work in Canada: either you are a foreigner or you are a Canadian citizen.
Lack the necessary qualifications, skills, and work experience, or lack the necessary qualifications, skills, and work experience.
You are "inadmissible," meaning that you are not allowed to enter Canada under Canadian immigration rules.
If you do not fall into the second category and have the appropriate skills, you may be able to work in Canada.
When you arrive in Canada, you can choose whether you wish to be a permanent resident or work as a temporary foreign worker under one of the several immigration programs available.
Types of Express Entry Work Programs
You must be a skilled worker who is eligible for one of three Express Entry programs if you want to work and reside in Canada permanently:
a. Federal Skilled Worker (FSW) program
The Federal Skilled Worker (FSW) program is a federally funded initiative that employs skilled workers.
Filipino applicants must have the required education, language skills, and skilled work experience in one of Canada's 300+ qualified occupations. Because this is a point-based system, you will be ranked based on the number of points you collect after being admitted into the Express Entry pool. Only the top-scoring applicants are usually asked to apply for permanent residency.
b. Federal Skilled Trades Program (Federal Skilled Trades Program) (FSTP)
Since its inception in January 2013, this program has placed a greater emphasis on practical experience rather than academic study. To be eligible for the FSTP, an applicant must have worked in one of the permitted skilled trades for at least two years in the previous five years.
c. Canadian Experience Class
This is true for people who have worked in a competent capacity in Canada before.
In addition to the three Express Entry categories listed above, you may be chosen through the Provincial Nominee Program (PNP), which is for people who meet the requirements and have been nominated by a Canadian province or territory to immigrate to Canada.
If you apply for any of the above-mentioned programs, your application may take a long time to be approved–especially if you don't have a qualified employment offer.
Working under TFW (Temporary Foreign Worker) program
TFW (Temporary Foreign Worker) program is a program that allows foreign workers to work temporarily in the United States.
Filipinos are hired under this scheme by companies that can demonstrate a scarcity of workers with the skills and experience they seek in Canada.
Hardworking Filipinos see TFW as a stepping stone to becoming a Canadian citizen. This is owing to the fact that individuals are eligible to seek for permanent residence status under the Canadian Experience Class after gaining sufficient experience.
Places to Search for a Job in Canada
You've probably decided which way of job hunting in Canada is best for you right now. Of course, the next step is to find a company that will hire you.
If you are eligible for the Express Entry programs and want to become a permanent resident as quickly as possible, you should check out the Job Bank for available positions.
1. The Job Bank is Canada's official job-matching portal, connecting Express Entry candidates with suitable employers.
Candidates for Express Entry with job offers receive additional points, not to mention the convenience of landing in Canada with a job waiting for them.
Caregivers and blue-collar workers from the Philippines who want to work in Canada under the Temporary Foreign Worker (TFW) program can find work at Philippine Overseas Employment Administration-approved recruitment firms (POEA).
2. How to Find POEA-Approved Recruitment Agencies Using the POEA Website
To find out which agencies in the Philippines have a valid license, go to this link and choose "All Agencies with Valid License."
Keep in mind that the license is only valid for four years. The list of licensed recruiting agencies is subject to change at any time, so double-check this URL before applying to any job posting.
How to Use the POEA Website to Look for Jobs in Canada
To find the most recent job openings in Canada, go to this site and select Canada from the "Select Co POEA cannot guarantee that the job orders are still current, so double-check with the agency to ensure that the job is still available.
After confirming that the recruitment agency has a valid license, contact them via their website or Facebook page. Otherwise, before submitting your application, call them and inquire if the task order is still available.
Job Documentation and Employment Certificates
Wait for the required documentation to arrive.
Disclaimer: This part (and the ones after it) are for professionals who are applying for one of the Express Entry programs and have been fortunate enough to find work on one of the legitimate Canadian job sites. You're dealing with a "middleman" if you applied through a personnel agency in the Philippines, therefore you'll have to wait for their instructions on what to do next.
After you've found a potential employer who is eager to hire you, all you have to do now is wait for the necessary documents to arrive.
Employers in Canada must file a Labor Market Impact Assessment if they are unable to find a Canadian candidate for a position (LMIA).
Applying for a Work Permit
Now that you have the LMIA and a job offer from your firm, you may apply for your work permit at an approved visa application center.
To apply for a work permit, you'll need the following documents:
Contract
Letter of Job Offer
A copy of the Labor Market Impact Assessment (LMIA).
The LMIA number
Keep in mind that a work permit is not required for all jobs. A complete list of jobs that do not require a work visa can be found on this page. Even if you do not need a permit, you must apply for a visa before entering Canada.
There are two types of work permits in Canada: temporary and permanent.
You cannot work for anyone other than the company that employed you if you have an employer-specific work permit.
An open-work permit, as the name implies, allows you to work for any business in Canada. An open-work permit, on the other hand, is only given to a select few applicants.
Video: Applying for Jobs in canada via POEA Website
This is a detailed step-by-step video on how to apply for jobs in Canada. This shows how to search POEA jobs in Canada on the POEA website.
Frequently Asked Questions
Here are Frequently Asked Questions to help you out.
1. Is there a placement fee in Canada?
Employers in Canada pay recruiting agencies for services such as obtaining resumes and conducting interviews. Because the Canadian government forbids companies from passing on the cost of recruitment to Filipino workers, Canada is a no-placement-fee country.
2. What is job order in Canada?
If a job vacancy has an authorized job order, it signifies that an employer has already expressed interest in interviewing and hiring you.
3. Can I go to Canada without a job offer?
A job offer is not required, but you must have an active Express Entry profile and meet Ontario's standards, such as having work experience in specified vocations or sectors, to be considered for this stream.
4. Can I work in Canada without experience?
You can work in Canada on an open work permit using the Working Holiday Visa (WHV). This means that you can work in any job in Canada.
5. Is Canada Work Visa easy to get?
Temporary Work Permit. For two reasons, the temporary work visa is an easy way to immigrate to Canada. Processing time can be as little as two weeks, and there is no requirement for a specific Comprehensive Ranking System (CRS) score to qualify.
Summary
Applying for jobs in Canada can seem daunting, but it doesn't have to be. With the right information and preparation you'll be able to find a Canadian employer eager to hire you or considering hiring you.
So, this is the end of the article and hoping that you learn something on the how to apply for a job in Canada. This can serve as a guide for you if you wanted to work in Canada.
A gentle reminder for every aspiring OFW that a working visa can allow you to stay in Canada for a limited period of time while you fulfill your contractual obligations.
Good luck on your journey as an OFW in Canada and wishing you all the best.