Christmas in Canada is one of the most celebrated holidays in the country, with many Canadians celebrating it as a religious holiday. In fact, Christmas is the second most popular holiday after Thanksgiving in Canada and is celebrated by almost 80% of Canadians. In Canada, the festivities begin well before the holiday season. It is vital for newcomers to the country to know about its holiday traditions. In addition to being able to observe the festivities, you should also learn about other local festivals and markets.
If you're wondering how this holiday is celebrated or if you're planning on visiting here for the holidays, here's what you need to know about this festive season in Canada. Keep on reading to learn more!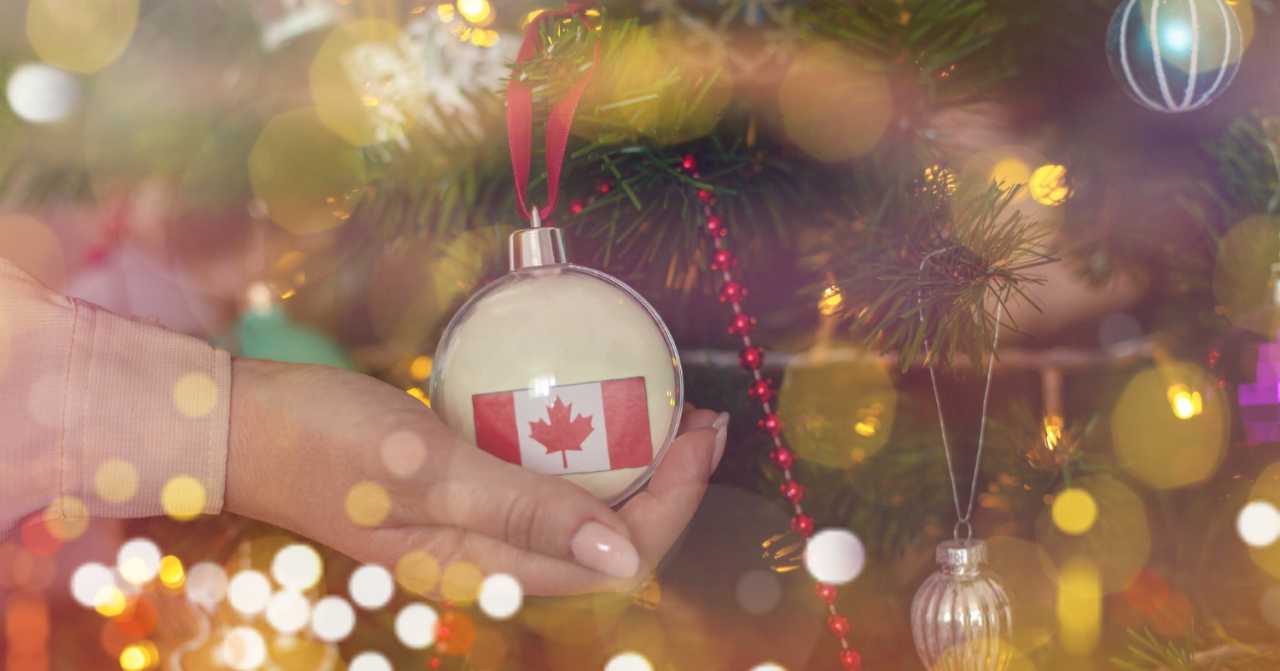 How do Residents in Canada Celebrate Christmas?
Like other countries, Canada celebrates Christmas on December 25 each year. There are many things that make Canada's Christmas unique. The country is home to people from different backgrounds. Each of them brings their own traditions and culture with them to Canada. As a result, its holiday traditions are a unique blend of different practices from different countries.
In Canada, one of the most common expressions of Christmas joy is "Happy Holidays." This is because the country's people are mindful of the individuals who do not celebrate this holiday. They also believe that Christmas is inclusive of other faiths. This means that they do not wish people a Merry Christmas.
In recent years, another tradition has emerged regarding how Canadians celebrate Christmas. Although it is a Christian holiday, not everyone in the country is a believer in Jesus Christ's birth. Because of this, Christmas has gradually become a secular festival.
This new tradition is great for newcomers as it allows people who do not believe in the birth of Jesus Christ to celebrate Christmas without having to be Christian. During the weeks leading up to the holidays, people often see decorations and lights around their homes. Trees, snowmen, and reindeer are some of the holiday gifts that people display around their neighborhood. Red and green are the colors of the holidays.
Christmas Trees in Canada
One of the most prominent symbols of the holidays, especially in the West, is the Christmas tree. In Canada, it is common for families to decorate their homes with decorative trees during this season. The most popular type of tree used by Canadians is the Balsam Fir, which has a natural green colour and smells like pine. However, other types, such as Douglas Fir, Eastern White Pine and Scotch Pine, can also be used for your holiday decorations. If you're looking for places to get your own Christmas tree for the holidays, you can easily get them at the following shops:
Walmart,
The Home Depot,
Bed, Bath & Beyond,
Canadian Tire, and
But if you want to get them fresh and as real as they come, you may check out the following locations:
Vancouver Christmas Tree Lot
Location: St. Stephen's United Church at 54th and Granville Street, Vancouver
Coquitlam Christmas Tree Lot
Location: Eagle Ridge United Church at 2813 Glen Drive, Coquitlam
Burnaby Christmas Tree Lot
Location: All Saints Anglican Church at Royal Oak and Rumble, Burnaby
North Vancouver Christmas Tree Lot
Location: Lonsdale Quay – East Plaza 123 Carrie Cates Court, North Vancouver
River District Christmas Tree Lot
Location: River District – 3555 Sawmill Crescent, Vancouver (surface parking lot right behind Save-On-Foods)
Prince of Wales Secondary School TREK Outdoor Ed Christmas Tree Lot
Location: Prince of Wales Secondary School at 2250 Eddington Drive
Oh Christmas Tree Farm
Location: 21858 Maxwell Crescent, Langley
Lord Byng Christmas Tree Lot
Location: Lord Byng High School parking lot at 3939 West 16th Avenue, Vancouver
Frosty's Family Christmas Tree Farm
Location: 24488 52nd Avenue Langley (West off 248th Street)
Dogwood Christmas Tree Farm
Location: 8659 252 St. Fort Langley, 4 km east of The Fort, on River Road & 252nd Street
Where to Buy Holiday Decors in Canada
And if it's the trinkets and small accessories that you want to bring home, there are a number of places that sell holiday decorations, too. These include:
1. RetroFestive Pop Culture & Christmas Store
RetroFestive is an amazing experience, similar to stepping into Mr. Magorium's Wonder Emporium. It's like opening the attic of your grandparents, where all of your childhood treasures were kept.
The store has a wide variety of products from various genres, including movies, TV shows, and musicians from the 70s to the 1990s. These are all recreated for your gift-giving pleasure.
The store has a wide variety of toys that are new and perfect for gift-giving. There are also unique gift ideas for different people. Whether it's for a friend or an office party, the selection at RetroFestive has something for everyone.
2. The Merry Christmas Shoppe
The Merry Christmas Shoppe is a large Christmas shop in Ottawa that's filled with gifts and decorations. There are two levels of this store filled with holiday decorations and gifts. There are many unique items, including ornaments and small toys.
3. Toronto Christmas Market
The Toronto Christmas Market is a great place to visit during the holiday season. It can be visited any time of year as the market houses stay open all year. There are also various activities going on in the market, such as rides for children.
The Christmas market in Toronto is a fun and vibrant place to visit. It's very decorated and you can spend some time watching the various stores or exploring the area. The market can be visited at any time of the year.
4. Ian's Christmas Adventure Park
Ian & Linda first started their farm in 1980, and in 1990, they opened a small cut-your-own operation. It has since been transformed into a Christmas Adventure Park.
The Andrews family, along with their various children, close friends, and employees, have grown this farm into Eastern Ontario's largest Christmas Adventure Park.
Where to Go Christmas Shopping in Canada
As Canada is a big country, there are various places you can visit to get the full holiday experience in the country. Here are some of the most popular holiday shopping destinations:
1. Banff Christmas Market
The Banff Christmas Market is a unique event that takes place in Canada's first national park. It features over 50 local and international vendors, and it's surrounded by nature and beauty. There's something for everyone, from jewelry and home decor to clothing retailers and Inuit carvers.
2. Calgary Expo Holiday Market
This event brings together local artists, retailers, and makers for a holiday event. The event will be held at the BMO Centre. There will be a Christmas wonderland where you can shop for toys, memorabilia, and more.
You can watch comic book artists draw away as they show off their creations while waiting for you to pick up your presents under the tree. You can also meet Santa and take photos with him.
The Calgary Expo Holiday Market is a great place to find all things Christmas. It's held at the Calgary Convention Centre and costs $10 for adults and $5 for children.
3. Christkindl
The Christkindl Market in Kitchener, Canada, is the country's original German Christmas festival. It has been held every Christmas since 1996. The event, which takes place in the city hall, recreates the traditional festivals held in Germany.
The festivities begin on the 5th of December. During the opening ceremony, join in a sing-along as the donkey procession makes its way through the streets.
Over 35,000 people visit the market each year to buy various items, such as toys and jewelry. The event is a great way to get in the holiday spirit with its Old World German theme.
If you're planning on visiting Canada and looking for cheap flights, you might want to check out the Christkindl Market. It features over 30 performances by various groups and singers. It also has a model railway display and a live nativity scene.
4. Got Craft
In Canada, Christmas markets are known for their variety of crafts. Got Craft is a market that showcases this abundance. The event was established in 2007 and has been growing each year.
The event features over a hundred local makers and do-it-yourself workshops. It also has food carts and a free swag bag for the first 50 people.
The market takes place at the Pipe Shop Building, located across from Seabus terminal. It's $5 to enter and is perfect if you're looking to book a car hire in Vancouver.
5. Montréal Christmas Village
The Montréal Christmas Village features over 50 chalet-style tents on the streets. You can listen to the choir sing your favorite Christmas songs as you enjoy a sugary treat from one of the vendors.
The Christmas Village has been around for four years now, and it has more attractions and vendors every Christmas season. It's a great place for families to gather and enjoy the festivities.
6. Québec City's German Christmas Market
The German Christmas Market in Québec City is a must-visit for anyone who enjoys European culture and a good night out. This event features a festive atmosphere and plenty of gift ideas. The market also has a variety of free shows and activities that will keep you entertained until Christmas.
The market features a variety of German food items, such as bratwurst, gingerbread, and mulled wine.
There are plenty of Christmas gifts and decorations available at the market. However, if you're looking for something more entertaining, then this event's free performances and shows will be a great choice.
7. Toronto Christmas market
The Toronto Christmas Market takes place in the historic Distillery District. It offers a variety of European-inspired gifts and activities for the whole family.
At the Toronto Christmas Market, you'll find bands from Ukraine and Slovenia, as well as folk dancers and brass bands from Bavaria. While you're there, you can also buy Eastern European gifts, stocking fillers, and art glass.
Take a tour of the distillery and visit Santa's house. Or, try a cup of coffee from the Nordic Garden Boutique. Both activities are great ways to get a caffeine boost.
If you're looking for a souvenir from your trip to Canada, the Toronto Christmas Market has a variety of options. There, you can also find clothing and home décor, as well as Christmas drinks and hot rum.
Christmas Gift Shopping Guide in Canada
During the holidays, it is fun to pick out gifts for others. It is also a great way to see the expressions on the faces of the people you have selected for them. However, what do you get for the individuals on your list? Here's a short guide on things you can consider for your loved ones:
For the kids
It's important to give kids gifts that encourage them to develop their creativity, and this year, consider giving them something related to the arts. Instead of the usual toys, try something different.
You can find art supplies at Gwartzman's Art Supplies or Blick, or you can go to a local store such as Art Studio for Children in Toronto. There, they have classes that are suitable for kids of all ages. Glow Christmas is also a great way to introduce your child to the arts, as it involves visiting various locations and helping Mrs. Claus make cookies.
For the Teens
Whether they're into the latest tunes or prefer playing an instrument in the school band, teens are passionate about music. You can help them explore their musical interests beyond just streaming music by encouraging them to try out new instruments or even purchase new headphones.
They'll be starstruck by this year's gift idea, which is a one-of-a-kind online course that they can take from Alicia Keys or Ringo Starr. Also, you can give them a gift certificate to The Academy of Music's The Oscar Peterson School of Music, which will allow them to learn an instrument. In addition, you can watch the live entertainment at Glow Christmas, which will get them in the holiday spirit.
For Men
Getting the right gifts for your dad or uncle can be a bit challenging. However, it doesn't have to be that way. Instead, try giving them something to eat or drink. This is a great category to get creative in.
Instead of giving him something to open on December 25th or on the day of Hanukkah, give him a subscription box that contains a year's worth of gifts. If he enjoys food, you can find a variety of options such as SaulGood, which will send him a customized package filled with Canadian products.
If he's a regular at Radical Road Brewing Co., then you can subscribe to The Hops Collective. There are also plenty of other great options during Glow Christmas.
For Women
There is something about being able to pick something unique for yourself that most women find very special. This is why you must find something that is made from scratch and personalized. At Glow Christmas Toronto's Merrymakers Market, you can meet the artisans and talk to them about their creations.
Video: 4K Metro Vancouver Christmas Decorations 2022, | Christmas in Canada
Don't miss out on the chance to experience the holiday decorations of Metro Vancouver this year! This year, Metro Vancouver holiday decorations are sure to bring cheer to all the residents of Canada.
Get ready to be dazzled by the lights and the wonders of the holiday season. Enjoy the displays of snowflakes, trees, and much more, as well as the festive music and performances, all while celebrating the spirit of the holidays in Canada.
With the video of Metro Vancouver Christmas Decorations 2022, you won't have to miss a single moment of this beautiful festive season.
Frequently Asked Questions
1. How do they celebrate Christmas in Canada?
In addition to watching Christmas movies and baking cookies, Canadians enjoy sending cards, hanging stockings, going caroling, decorating gingerbread houses, and more.
2. What are some popular Christmas traditions in Canada?
Canadians enjoy the same traditional activities as people around the world do, including decorating trees and exchanging gifts. They also celebrate Boxing Day on December 26th, which marks the day after Christmas.
3. What is Boxing Day?
Boxing Day is a holiday celebrated in Canada on December 26th each year. It originated as a day off work for railway employees in 1881 (known as "Struggle Sunday").
4. Is Christmas expensive in Canada?
Yes, Christmas is an expensive holiday in Canada. Prices are generally higher than they are in the U.S., but you can find some good deals on gifts and decorations if you look around.
5. What is the average temperature during Christmas in Canada?
The average high temperature during December in Toronto averages about 9°C (48°F), while Montreal sees a high of -1°C (30°F).
6. How do Filipinos celebrate in Canada?
Filipinos in Canada celebrate the holidays the same day as their relatives in the Philippines. They also enjoy traditional Christmas dishes like ham, turkey, and other meat dishes, rice, and noodles.
Final Thoughts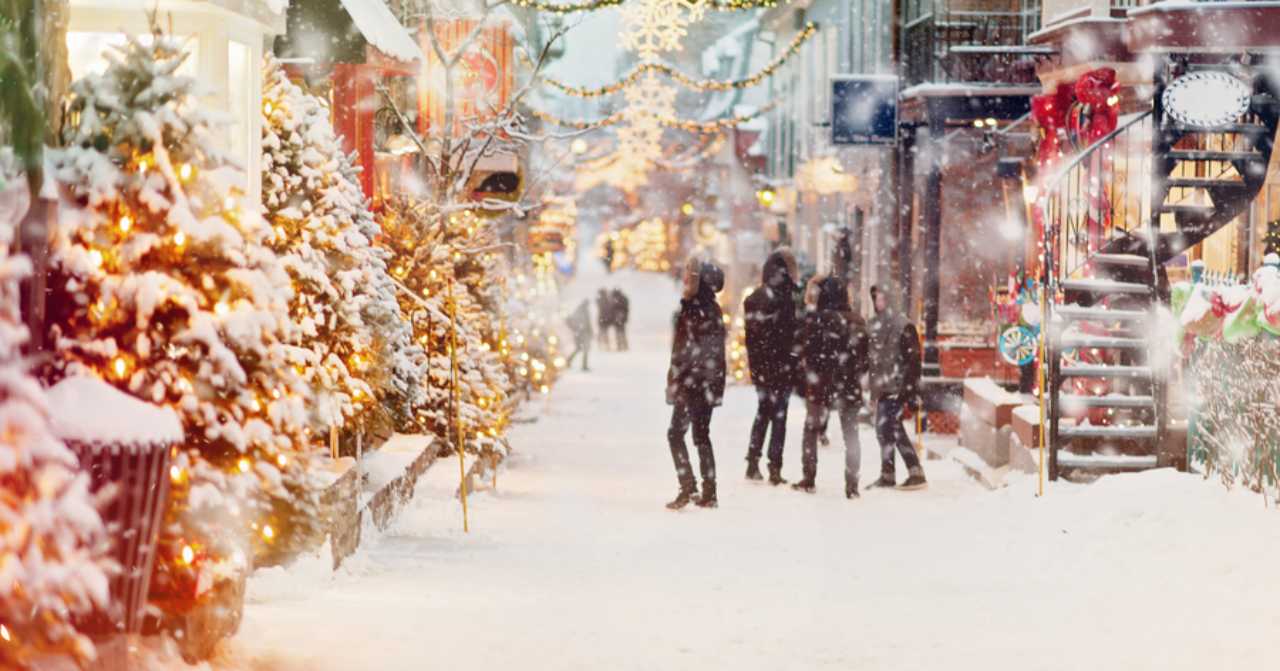 Christmas is an exciting time of year in Canada. Families gather together yearly to enjoy delicious festive meals, exchange gifts, and sing carols. The snow-covered winter wonderland is lit up with twinkling lights while the smell of freshly baked cookies fills the air.
Christmas is also a time of giving and sharing. From helping those in need to organizing community events, Canadians come together to spread holiday cheer. Celebrating the holidays in Canada is an unforgettable experience that brings all joy, warmth, and happiness!
READ NEXT: 6 Smart Tips for OFWs to Better Manage Finances Before 2022 Ends