If you're an overseas Filipino worker (OFW) based in Toronto, Canada, you can now conveniently renew your OWWA membership to continue enjoying the benefits and services offered by the department. Remember, the OWWA membership is only valid for two (2) years, and this is one you shouldn't miss out on. Why? We'll let you know (or refresh you) about what you can get from the OWWA as a certified OFW-member.
Also Read:
You might think that renewing your membership can be a daunting task, especially since you'll get this done overseas. But this is far from what you can expect when you get started on this simple process. If you're ready to learn more, keep on reading. We'll give you an overview of the OWWA, what you can expect as a member, of course, the renewal process, some tips, and FAQs about the program, so be sure to read until the end of this guide.
Guide to OWWA Appointment and Membership Renewal Membership Renewal in Toronto Canada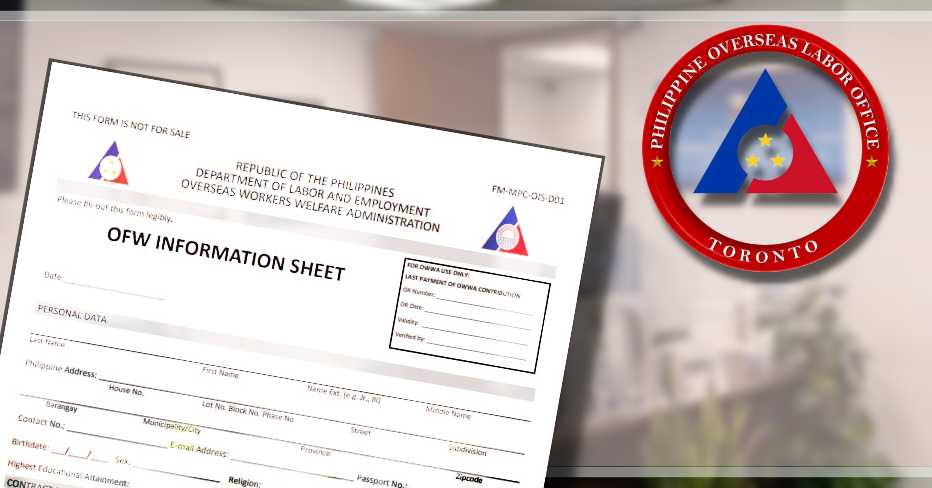 If you came across this post but are not yet an OWWA member, then stick around because you'll also get to know how to apply for membership, since both processes are almost similar.
What is OWWA Membership?
The OWWA membership is a welfare program for overseas Filipino workers. It provides them with information on their rights and responsibilities while they're working abroad. Thus, it's important for every OFW to understand what being an OWWA member entails, as this will affect their career and overall welfare as overseas workers.
The OWWA offers two ways to obtain membership. The first is through the Philippine Overseas Employment Administration's (POEA) office, which is a requirement for OFWs before they go to their destination countries.
The second is through OWWA's On-Site Membership Program, by which overseas Filipinos can apply for membership by filling out an application form and submitting the necessary documents.
Eligibility
So, who are eligible to apply for or renew their membership with OWWA? Let's take a look at the following:
Must be actively and legally working abroad. This means you need to have your legal documents for work wherever you may be in the world.
Is a permanent resident with full-time, permanent work but remain a Filipino citizen
Given the criteria for eligibility above, the following ARE NOT eligible to apply for or renew membership with OWWA:
Cancelled
Due for cancellation
Due for termination
No work, no pay
Resigned
Terminated
Requirements
OFWs in Toronto, Canada who are renewing or applying for the first time for OWWA membership, will need to submit the following documents:
Duly accomplished OFW Information Sheet. Download a copy of the form here.
OFWs must present a letter of certification from the employer or company, verifying that they are not on the list of terminated, resigned, canceled
Original and photocopy of passport (showing the data page)
Photocopy of Active and Valid Proof of Employment
Photocopy of Valid Visa and Work Permit
Fees
Applying or renewing OWWA membership requires a fee of USD 25.00 (CAD 32.00 or PHP 1,032)
Procedure
Before you can get started with your membership application or renewal, you need to know whether the OWWA branch (at the Philippine foreign post [POLO] in your area) or in this case, Toronto, has an online appointment system for OWWA services.

As of this writing, POLO-Toronto does not have an online appointment system for OWWA services. However, based on an April 17, 2021, POLO-Toronto webinar, the OWWA membership application is temporarily via email. This means that OFWs are not yet advised to go directly to the POLO-Toronto office as COVID-19 restrictions are still in place.
Another way OFWs can apply for or renew their membership is through the PCG Consular Outreach activities. Just keep posted on the PCG-Toronto's social media pages for the latest announcements.
Applying via Email:
As mentioned, application for membership is temporarily coursed through email. Simply email the requirements to toronto@owwa.gov.ph.
Upon securing then submitting the above-listed documents to OWWA through email, POLO-Toronto will process and verify your membership application or renewal.
As for payment, you will only need to pay for your membership once your application and documents have been verified by OWWA. This means that you will have to wait for a confirmation email from POLO-Toronto regarding your application before paying them any amount for your OWWA membership. Payment is done through fund transfer.
However, if you are filing your membership application or renewal at a consular outreach mission, you may pay the membership fee to the POLO-Toronto officer-in-charge (OIC) once your application has been approved.
Here are the steps on paying your membership fee at the POLO-Toronto office:
Visit the POLO-Toronto website at http://polotoronto.dole.gov.ph/.
On the upper section of the page, look for the Programs and Services tab.
A drop-down list should show you a link to OWWA services.
Click the OWWA downloadable form and print out several copies for you to manually fill out.
Fill out all the required fields on the form, including your personal details, contract information, as well as legal beneficiaries/qualified dependents.
Once you've accomplished the OWWA information sheet, you may now scan the form along with the other requirements.
Email the complete and scanned requirements to toronto@owwa.gov.ph.
Wait for the confirmation of your application. This could take three to seven days.
Upon receiving confirmation of your application, you may then settle the membership fee of USD 25 via bank transfer.
San the receipt of your payment and send it to toronto@owwa.gov.ph.
POLO-Toronto will then request your mailing address. Provide this information so that you can get the official receipt for your membership payment.
POLO-Toronto Reminders
Aside from completing all the steps and requirements set by OWWA, here are some reminders provided by POLO-Toronto regarding your OWWA membership application or renewal:
Make sure that all your requirements are complete before submitting your application. If you have not submitted all of these, then your application will not be processed.
Make sure that your documents are clear and not blurred before sending them to POLO Toronto.
OFW should also receive a confirmation from POLO Toronto regarding their application.
After paying the OWWA's membership fee, you should send the scanned receipt to confirm your membership.
You can also connect with POLO-Toronto through its Facebook page and website for more details.
Video: OWWA Membership in POLO-Toronto
Based on the discussion on the video, OWWA membership can be obtained at POEA when processing your employment. It can also be obtained by OFWs in Toronto whose membership have already expired.
The speakers also talked about the various programs and services that OWWA provides to its members.
You may watch the full video to learn more about OEC issuances, the benefits of OWWA members, as well as the various services offered by POLO-Toronto.
Frequently Asked Questions:
How to book an appointment with OWWA in Toronto, Canada?
Currently, there is no need to contact POLO Toronto to book an appointment for OWWA membership. However, OFWs are not allowed to visit the office of POLO-Toronto since the OWWA membership application is not yet processed on-site.
How do I renew my OWWA membership in Toronto, Canada?
The process for applying for OWWA membership in Toronto, Canada is simple. After submitting the required documents, the membership fee is paid through a bank transfer. Then just wait for the official receipt of your payment, and once that's settled, your membership should be renewed right away.
Can I pay for the OWWA membership online?
You can renew your membership online or through the OWWA mobile app. Just enter your email address and your preferred payment method.
How long is OWWA membership valid?
The OWWA membership needs to be renewed every two years. The renewal date falls on the date of your application.
Why is my OWWA membership inactive?
Your OWWA membership will become inactive if its validity has already surpassed two years. It can also be deactivated if you have an expired work visa. To maintain OWWA membership status, an applicant must not change his or her employer within two years from the date of application.
Is OWWA membership mandatory?
Many OFWs who have processed their employment at the POEA are required to join the OWWA. However, those who got jobs in other countries can also apply for membership through voluntary enrollment.
Are all OFW member of OWWA? No, not all OFWs are members of OWWA.
The OWWA has set various requirements for its members. Those who cannot meet these requirements, such as undocumented workers, will not be allowed to join the organization.
Who can avail of OWWA benefits?
Active and registered members of the OWWA can access the organization's various benefits. Inactive members may also access the programs and services offered by the organization; however, these are only limited because of their membership status.
What are the OWWA benefits for active members?
As OWWA-members, OFWs can gain access to a range of member benefits, which include the following:
OWWA financial assistance: The OWWA loan is a type of loan that provides financial help to overseas workers for various purposes, such as a vacation or emergency expenses.
OWWA social benefits: These benefits are provided to OFWs who are disabled and dismemberment benefits are also provided to them.
Seminar and training for OFWs: The OWWA also helps enrich the knowledge and skills of OFWs all over the world thru skills training and seminars/webinars. Some of these include the country-specific Pre-Departure Education Program (PDOS), comprehensive Pre-Departure Education Program (CPDEP) and seafarer's Upgrading Program (SUP).
OWWA benefits for beneficiaries: Aside from OWWA benefits, there are also various scholarship programs that are available to OFW dependents.
Welfare assistance program: OWWA's welfare assistance services include on-site support, in-country assistance, and psycho-social counseling.
Repatriation Assistance Program: The OWWA's Repatriation Assistance Program provides financial assistance to overseas Filipino workers (OFWs) who are returning to the Philippines in times of distress. This benefit can include shelter, transportation, and social counseling.
OWWA Rebate Program: OFWs can get a rebate for making OWWA contributions. The amount they can get depends on how many contributions they made. To claim, they can visit the OWWA rebate website.
OWWA benefits for ex-OFWs: Aside from the welfare of their fellow workers abroad, there are also various OWWA benefits available for retired overseas Filipino workers. These include:

OWWA Reintegration Program: The Reintegration Program is for overseas workers who have already left their contracts and would like to start a new life in the Philippines. It provides them with the opportunity to start a new venture.
Balik-Pinas! Balik-Hanapbuhay! Program: The OWWA's livelihood program supports overseas Filipino workers to start their own businesses. This assistance can be used for various purposes, such as training, equipment, and education.
Summary
The OWWA membership is a crucial measure for OFWs to ensure that they have access to the various programs and services that they can benefit from. For a minimal fee, you can fully avail of the services and benefits offered by the Philippine government to overseas Filipinos, wherever you may be in the globe. This goes without saying that this is a must for all overseas Filipinos. Not only will this provide you with peace of mind, but even your families and dependents back home can benefit from your membership. Just make sure that you maintain active membership status and renew accordingly so that you can fully maximize all of the program's benefits.
Filipinos in Toronto, Canada, who would also like to become an OWWA member may apply through their local office or through the organization's mobile app. If you're an OFW in Toronto, Canada, then make sure to register for an OWWA membership. This will allow you to maximize the benefits available to registered members, such as those mentioned in this guide.
READ NEXT: Services by the Philippine Consulate in Canada and Overseas Labor Office
Contact Information
POLO-OWWA Toronto, Canada
Opening Hours: 9:00 am-5:00 pm, Monday to Friday
Address: 160 Eglinton Avenue East, Suite 200, Toronto, Ontario M4P 335
Telephone Number: (416) 975-8252
Email: toronto@owwa.gov.ph, polo_toronto@dole.gov.ph, polotoronto.2019@polo-owwa
Website: http://polotoronto.dole.gov.ph/, https://www.philcongen-toronto.com/
Facebook Page: https://facebook.com/Polotoronto
Google Map Location